It comes as no surprise to anyone that gamers generally also like toys and puzzles, especially those related to games. K'NEX's Plants vs. Zombies Cone Mech Building Set and Wild West Skirmish Building Set bring three great things together for one really good time.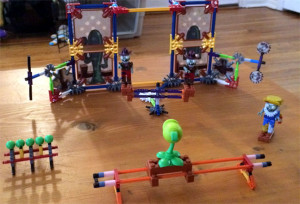 The first set I put together was the Cone Mech Building Set, because I cannot resist building anything that moves. The set wasn't too difficult to put together. It only had 114 pieces and is rated as age 7+. Word to the wise, if you're getting this for your seven-year-old, expect to help, because some of the pieces are very small and the instructions, while easy to follow for an adult, may be challenging for a child. There is also a clear choke hazard warning on the box cover, which should be heeded. Those tiny pieces are dangerous for toddlers and pets. Unfortunately the Cone Mech Building Set was missing five pieces. They were small pieces that function as both clamps and zombie hands, so I was able to cannibalize some zombie figures to get what I needed to finish construction. Hopefully, the missing pieces were a fluke in my set, because aside from that, this was really fun to put together and have walk around my kitchen table. Unfortunately, the remote for the Cone Mech is corded and the cord is pretty short, so I couldn't have it chase the dog or anything, which I'm sure the dog appreciates. The only other drawback was that it was difficult to get the zombie driver to stay in the capsule. He just didn't want to grab the base and hold on. Zombies – what can you do? I also put together a set of Plants vs. Zombies individually wrapped figures. I have to say I love these as fun things to set on top of my computer at work. They are quick to put together and pretty cute to boot. There are both plants and zombies represented if you need to act out a quick tower defense at work to relieve a little stress.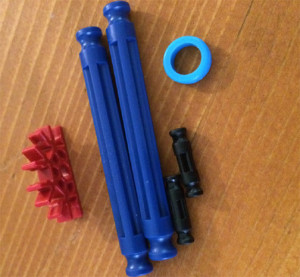 The second set I put together was the Plants vs. Zombies Wild West Skirmish Building Set. With 219 pieces, it took longer to put together than the Cone Mech Building Set, but double your pleasure, double your fun. This time, all the pieces were included and there were even some extra pieces. The set went together easily, although the last picture direction was a little confusing. It would have been nice if they had broken that instruction down into two pictures for clarity. The Wild West Skirmish is for ages 5+ and I encourage you to take that warning seriously. There are some very tiny pieces in this set that would pose a danger to small children and pets. That said, I think this set was much easier to put together than the Cone Mech was, so it would be easier for a kid to put it together without as much adult assistance. The set is pretty fun since it's a western themed zombie shooting gallery when you're finished. This is a little bigger than the Cone Mech, so you'd have to have a bigger desk to display it at work, but it comes with two different types of zombies, which was fun and they are always good for desk toys.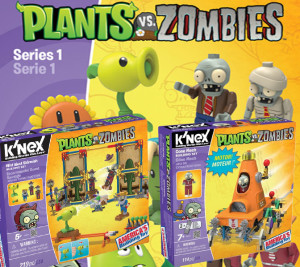 All in all, the Plants vs. Zombies building sets are fun for older children and adults that love to build or love Plants vs. Zombies or both. The K'NEX pieces can be challenging for tiny fingers but can provide a lot of fun family time together or just a fun diversion for adults that still like to play and build. Check them out and let me know what you think in the comments below.