There was once a time when people would get together at the end of a long week, bust out the dice and immerse themselves in Dungeons and Dragons for the weekend. These times were often filled with fun and excitement, going into a new world with your friends being the heroes you always wanted to be. Sadly the tabletop RPG has slowly drifted, leaving those in look for the deep RPG systems and adventure mixed with multiplayer comradery out in the cold. However episodic title Eon Altar works to bring those memories back. You just need a second screen (and maybe a few drinks) to do so.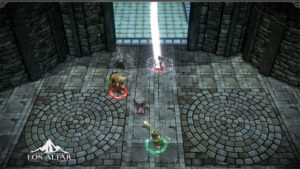 In Eon Altar, you control your character from a smartphone or tablet through an associated app, adding an interesting second screen twist to gaming, and providing an opportunity to bring friends together in ways often lacking for PC players.
The world of Eon Altar is very much inspired by Greek Mythos. There is a pantheon of gods who all symbolize different elements and parts of nature. The game throws you into a world of chaos as one of five characters of your choosing each with their own stories and beliefs. The story is a little simple, though the characters themselves are interesting even if they do follow many classic archetypes.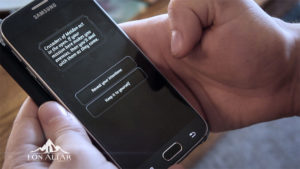 Overall you likely won't find yourself drawn into the world too deep as the game so far has been mostly surface level story telling. The only somewhat interesting story development is that since you are supposed to be playing with friends on your phone, you only you see your characters thoughts and dialogue. This leaves not only the voice acting up to you, but also how much information you reveal to your party. It's possible that you might have conflicting motives, but so long as you keep your screen hidden, you can play that out however you like. Eon Altar was truly designed to be played over pizza and drinks, so you probably won't be focusing too much on the narrative.
Get the whole first season of Eon Altar for fun with your friends, for PC or Mac, from Amazon!
When it comes to an artistic standpoint, Eon Altar isn't all that noteworthy. Visually it looks like playing Diablo 3 on medium settings down to the camera angle. Most designs aren't too memorable other than the assassin Silent Thorn who is probably the most visually interesting character. Sprites, effects, and the environment are fine, you really won't spend too much time paying them much attention any way. Sound design is just about as noteworthy.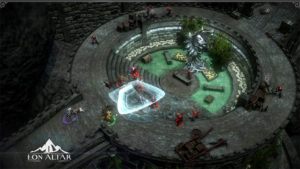 All NPC's are voice acted to side character RPG standards (forgettable but not bad), most effect noises are exactly what you would expect them to be, and the natural world sounds are forgivably forgettable. The music is from Tom Salta who has worked on titles like Halo (no he did not do the theme music) and Prince of Persia: Sands of Time. It is mostly enjoyable and quite fitting though how much you actually pay attention to it is another thing entirely.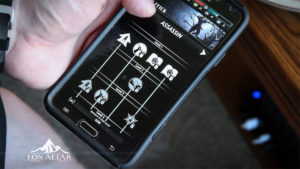 The most interesting thing about Eon Altar is it's game play because it is a two screen experience. You use either your monitor or a TV for viewing while you play the game on your phone with an app. This is a new experience, but not exactly an amazing one. The learning curve to become comfortable with your phone is steep; it took me a few hours just to be comfortable with using it. Once you get it down however the gameplay is quite fun if you are a classic RPG fan.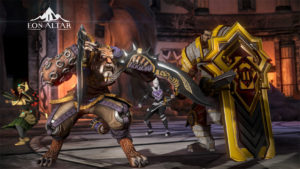 Combat is turn based and very much influenced by your stats. The game is filled with stat checks like dealing with obstacles or locks and the RPG mechanics like skills and character building are well done. Each character has multiple skill trees from which you choose how to spec out your character however you like. However in spite of its D&D inspirations, it doesn't really achieve the same level of experience. Even when playing with friends the game feels a little strange and uncomfortable for a little bit, the tabletop feel isn't as there as the developers hoped it would be.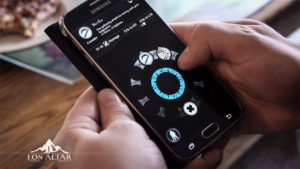 Oh and if you aren't playing with friend be prepared to suffer because the difficulty in this game does not scale so you better hope you have either the health or the ability to dodge, because otherwise it will continuously end poorly for you. Overall the game offers and interesting and fun experience with friends but it doesn't live up to all of its inspirations.
At the end of the day Eon Altar is a nice attempt at bringing back the tabletop experience into the modern realm though it falls short of the mark. Gameplay is good but not great, story isn't all that noteworthy, and it is game you really can't do alone. However if you manage to round up a few interested friends, sit down, order a pizza, grab a few drinks, and have a fun adventure into a new world.