As gamers, we spend a lot of time in front of screens, probably more than the average person, but that isn't something we necessarily want for our young children. A lot of screen time isn't recommended for the little ones who need time outdoors and manipulatives to play with to increase their dexterity and form their brains correctly. Enter Magicube, the next evolution of blocks. Magicubes are magnetic and allow for a vast array of figures and buildings to be created with their three basic shapes: a cube, a wedge, and a pie shape. The cubes are brightly colored in red, yellow, as well as a light and dark blue.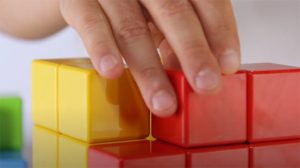 The Swiss company, Geomag, has been making magnetic toys since 1998. Like every Swiss made product I've ever used, Magicubes are durable, well manufactured, and thoughtfully designed. Pieces fit together easily, the magnets hold on to each other, but not in a scary Buckyball way that will endanger your children, and the blocks are just the right size for little hands. The fact that they are brightly colored also helps with keeping track of them, and making the build process all the more interesting.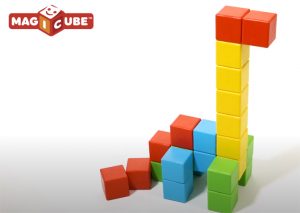 Building seems to be hard-coded in humans, so children love block toys. They also love magnets with their ability to "magically" stick together which is the perfect opportunity to start introducing them to basic physics principles so you can sneak a little STEM education in there while they are playing, but the best part of Magicubes is that they are just so much fun. Even as an adult, there is something so satisfying about stacking blocks.
The magnets make sure that constructions stay together better than regular blocks, which are so easily knocked over. On the other hand, the magnets are weak, so constructions are easily taken apart and reformed into other shapes.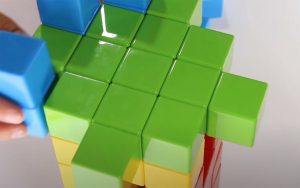 I received a basic nine-piece set for review and was surprised by how many things I could make with so few pieces. Naturally, larger sets are available and can, of course, be combined, which is great. Geomag makes a whole line of magnetic toys for children of all ages and abilities from the simple Magicube all the way to the Mechanics and Pro-L, which are for older children and adults and allow of an amazing array of construction.
If you're looking for a fun screen-free activity for your little ones ages 1-5, check out Magicube, and as your budding architect gets older, consider some of the more complex Geomag products. You won't be disappointed.