Hey everyone. I'm back with another entry in the Pathfinder Tales universe for my book review this week! It's Pathfinder Tales: Skinwalkers by Wendy N. Wagner!
Plot Synopsis: As a young woman, Jendara left the cold northern isles of the Ironbound Archipelago to find her fortune. Now, many years later, she's forsaken her buccaneer ways and returned home in search of a simpler life, where she can raise her young son, Kran, in peace.
Plot: This entry in the series mixes Viking and Native-American cultures in a refreshing and rather well done blend. That isn't to say that this is the most captivating story I've ever experienced, I've read too many masterpieces for this to impress me like that, but I had to say I was just as impressed with this story as I was with Liar's Blade a few weeks ago.
[amazon asin=1601256167&text=Start your adventure with Skinwalkers with a copy from Amazon]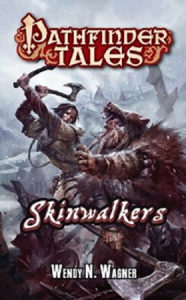 Characters: Jendara is a no-nonsense kick ass female lead, and longtime readers of my reviews and my Wednesday columns know I just can't pass up a book with a badass female lead character. Jendara is wonderfully torn between her past and the present and the character development we get to see in this book showcases the best I've seen in Young Adult done by anyone other than Brandon Sanderson. The rest of the cast is also really well done, but the star of the show is Jendara and it's a wild ride with her.
Overall: If you are thirsty for some maritime adventures, or just want to read a book with a well written badass female main character, then Skinwalkers is the book for you!
For those who like: Norse Mythology, Native American Mythology, The Pathfinder Tales RPG, Fantasy, Action, Adventure, Well Written Plot, Excellent Cast of Characters.
Not for those who don't like: Any of the above.