Hey all I'm back with the latest book in a favorite Urban Fantasy series of mine. It's The Brightest Fell, Book 11 of the October Daye, by Seanan McGuire!
Plot Synopsis: Things are slow, and October "Toby" Daye couldn't be happier about that. The elf-shot cure has been approved, Arden Windermere is settling into her position as Queen in the Mists, and Toby doesn't have anything demanding her attention except for wedding planning and spending time with her family. Maybe she should have realized that it was too good to last.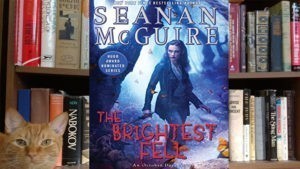 When Toby's mother, Amandine, appears on her doorstep with a demand for help, refusing her seems like the right thing to do…until Amandine starts taking hostages, and everything changes…
If you are not reading the October Daye seires, you should start. Get a copy from Amazon!
Plot: This is a very different book than the previous entry in that it's much more action packed. That wasn't to say the last one was bad, but just different. Frankly I'm unsure which I prefer. That being said we get some long-standing questions addressed in this entry as well, so maybe action packed is better.
Characters: We get to see a bunch of old faces in this entry, so this is definitely a poor entry to jump into the series with if you are wanting to do so. Lots of nuances will be missed if you were to do so.
Overall: A solid entry in an already stellar series.