Hi everyone! I'm back with yet another book by Michaelbrent Collings! It's time to bare some steel with The Sword Chronicles: Child of the Empire!
Plot Synopsis: She is a Dog – one of the many children and teens across the empire of Ansborn who have been sentenced to fight in the arenas. There they fight in battle after battle until they die for the sport of the people of Ansborn – an empire built atop the peaks of five mountains.  But one day she picks up a knife… and everything changes.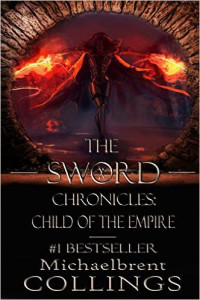 Plot: The plot for Child of the Empire is pretty intense and doesn't let up. It's one slice of action after another. I enjoyed it immensely, although I'm coming to realize that after reading another book from Mr. Collings, that I end up getting depressed due to the plots in his books. That's not to say that's a bad thing, I love the original Mistborn Trilogy by Brandon Sanderson, even if I can't stand rereading it because of how depressing the plot is.
[amazon asin=B018X2H2F2&text=Jump into the action with a copy from Amazon!]
Characters: Sword is our lead, and while she's a great lead character I ended up enjoying the other points of view over the course of the book. The rest of the cast are all interesting. That being said my favorite character might just be Smoke.
Overall: The Sword Chronicles: Child of the Empire is a great book and what looks to be an interesting start of a series that could be amazing.
For those who like: Action, Adventure, Magic, Fantasy, Drama, Excellent Plot, Fantastic Cast of Characters.
Not for those who don't like: Any of the above.