Hey all I'm back with the first book in the sequel series to the Pillars of Reality series I finished covering a couple months ago. It's Daughter of Dragons, Book One of the Legacy of Dragons trilogy by author Jack Campbell!
Plot: The plot is just as good as the first series, and while there are some rather cliché plot devices, Mr. Campbell was able to handle them in a way that still entertained me greatly. I won't go into too much detail, but I really enjoyed Daughter of Dragons and can't wait for the next entry in the trilogy.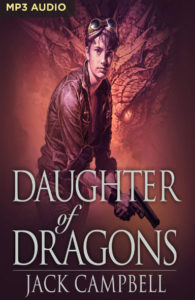 Characters: Kira, daughter of the main characters from the prior series, is the main focus of Daughter of Dragons, however, we do get the viewpoints of Alain and Mari as well.
Start a brand new series with Daughter of Dragons from Amazon.
There were also a few new characters, however, my favorite is probably Jason, for reasons I won't say to avoid spoilers. He was really interesting. We also got to see some old faces from the previous series as well, which was awesome.
Overall: Daughter of Dragons is an amazing beginning to a sequel of a series that was already one of my favorites. This is a must read for any fantasy or sci-fi lovers.