Hey all I'm back with the sequel to a book I'm wishing I had read previously. It's To Right the Wrongs, Erin Blake Book 02, by Sheryl Scarborough!
Plot Synopsis: Barely three weeks after catching the killer of Erin's mother and their biology teacher, Erin and her crew are back, up to their elbows in forensics projects. But this time it's with the full approval of their parents. With Uncle Victor at the helm, Erin and her best friends, Spam and Lysa, are prepping a new classroom for a CSI summer camp, where they will serve as camp counselors.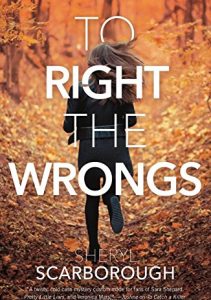 Plot: Despite the slim spattering of teenage angst in the story, something I find grating at the best of times, I honestly enjoyed the heck out of this book. That being said jumping into the series at the second book is something I try to avoid, because I felt like I was missing things that would've heightened my enjoyment of the story.
It's no mystery. Picking up a copy of To Right The Wrongs from Amazon is a great idea.
Characters: Erin is an intelligent and brave young woman that I enjoyed seeing the story through. That being said I do wish I had the opportunity to read the first book before this one as I would've known the characters quite a bit better. I enjoyed the entire cast, though the teen drama that is part and parcel of the characters ages is somewhat annoying.
Overall: A solid story, but probably not a good jumping in point to the series.
For those who like: Teenage Leads, Murder Mysteries, Good Plot, Decent Cast of Characters.
Not for those who don't like: Any of the above.