Hey all! I'm back with another review for Audible, and it's a continuation of one of the first series I did for them! It's Personal Demons, Book 03 of the Good Intentions series, by Elliot Kay!
Plot Synopsis: Alex always knew romance would be complicated. When love came into his life with wings and horns, he knew those complications would be a little unusual. Four months after meeting Rachel and Lorelei, Alex finally has a handle on divine visitations, supernatural enemies, and the echoes of reincarnation. He might even survive bringing an angel and a demon home for Christmas with the family. He might not survive what comes next…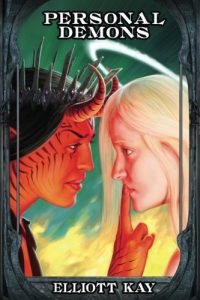 Plot: The plot is pretty decent, and while there are sex scenes like the previous books in the series, it isn't nearly as much as the others which is a good thing in my opinion. I'm not against sex scenes in stories, but they are hard to do for anything other than the eroticism. Sadly, Kay doesn't do that with his work, but thankfully it's much less compared to prior entries. There are a lot more action scenes which is nice, and we get a bunch of new perspectives for this entry.
Love your own Personal Demons with a copy of this great book from Amazon!
Characters: We get to meet a bunch of new people in this entry, but personally I was happy to see Taylor who was pretty much absent from the second book showing up and playing a much larger role in the story. Of the newcomers I think meeting the rest of Alex's family is pretty interesting. That's all I'll say about that though, as anything more is incredibly spoilerific.
Voicework: Normally when I cover any book past the first in a series I don't talk about the voicework unless the narrator changed. However, since it's been such a long time since I covered the prior entry I will cover it here. Tess Irondale is our narrator and she does an excellent job as she did in the past.
Overall: A solid entry for the series, with room left for a sequel.
For those who like: Urban Fantasy, Drama, Action, Romance, Good Plot, Great Cast of Characters, Sex Scenes.
Not for those who don't like: Any of the above, particularly the sex scenes.