Hello everyone, I'm back with a new series again, this time I'm headed back to the Sci-Fi genre! It's time to activate the FTL drive on The Atlantis Ship, Book 01 of the Carson Mach Adventure Series, by A.C. Hadfield!
Plot Synopsis: A legendary enemy attacks…Galactic peace is threatened…Unless one man can find and stop the Atlantis ship. Carson Mach, a former war hero turned freelancer, seeks the biggest payday of his life when he's tasked to hunt down a ghost ship that has echoed through the centuries. The legendary Atlantis ship has become a reality, appearing at the Commonwealth frontier and obliterating an orbital station.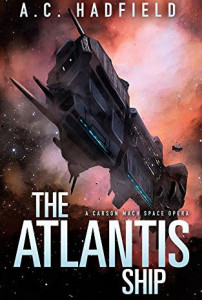 Plot: The plot is a mixture of classic Space Opera with a bit of Guardians of the Galaxy. It's not nearly as humorous as Guardians of the Galaxy, but considering that particular movie and comic series is hard to compare with that's not a terrible thing. The plot is altogether pretty great, and I'm looking forward to listening to the rest of the series.
Enlist with The Atlantis Ship From Amazon!
Characters: I actually don't really like Mach, the rest of his ragtag crew are my favorites with the two JPs (Junior Pilots) being my particular favorites. Mach is a brash and overly ambitious guy who isn't nearly as fun a protagonist as Starlord from GotG. That isn't to say he's a particularly bad lead, he's just not up to par compared to even the rest of his crew.  Our last protagonist Morgan on the other hand is pretty great, he's an old war vet stuck behind the desk who hates it and really wants to get back into the action.
Overall: This is a pretty fun adventure, not the best, but certainly far from the worst. It's worth the listen if you love Sci-Fi.
For those who like: Sci-Fi, Roguish Cast of Characters, Action, Drama, Excellent Plot.
Not for those who don't like: Any of the above.