Hey all I'm back with a brand new author and his debut novel that I got from the wonderful people at Tor. It's Graveyard Shift by Michael F. Haspil!
Plot Synopsis: Alex Menkaure, former pharaoh and mummy, and his vampire partner, Marcus, born in ancient Rome, are vice cops in a special Miami police unit. They fight to keep the streets safe from criminal vampires, shape-shifters, bootleg blood-dealers, and anti-vampire vigilantes.
When poisoned artificial blood drives vampires to murder, the city threatens to tear itself apart. Only an unlikely alliance with former opponents can give Alex and Marcus a fighting chance against an ancient vampire conspiracy.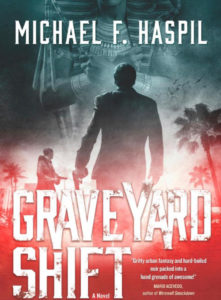 If they succeed, they'll be pariahs, hunted by everyone. If they fail, the result will be a race-war bloodier than any the world has ever seen.
Plot: The plot is pretty good, and is a solid piece of Urban Fantasy work. Though it wasn't the best I've read in the genre because I wasn't as captivated by the story as I would have been by a Demon Accords book, it's still quite good, especially considering this is the first published work by Mr. Haspil.
[amazon asin=0765379627&text=Spend a few nights on the Graveyard Shift with a copy of this great debut novel from Amazon!]
Characters: Alex and Marcus give off the buddy cop feeling, sort of. It's not as apparent as other books I've read with the characters being a much more obvious pair of close friends. But I got that feeling, which was nice. That being said the rest of the cast is just as interesting as Alex and Marcus. I won't spoil who was my favorite side character this time. Maybe in the next book I'll be able to name who it was.
Overall: If you enjoy Urban Fantasy, Cop Thrillers, or just plain old Contemporary Fiction, Graveyard Shift will be right up your alley.
For those who like: Urban Fantasy, Cop Thrillers, Action, Mystery, Good Plot, Interesting Cast of Characters.
Not for those who don't like: Any of the above.