Hey all, after last week's break from Audiobooks, I'm back with the sixth entry in the Ghost Hunter Mystery series! It's time to break in with Ghoul Interrupted by Victoria Laurie!
Plot Synopsis: M.J. Holliday and her crew interrupt the frantic schedule of their reality TV show, Ghoul Getters, and hotfoot it to New Mexico, where a dreadful demon is waging tribal warfare. Sam Whitefeather – M.J.'s spirit guide – urgently needs her help to stop this evil spirit from wiping out the descendants of his tribe.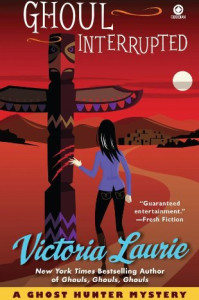 Plot: The plot is so much better than the previous entry in the series, with much less annoyances from both Gil and M.J. Speaking of M.J., we finally get to learn what the letters stand for officially, Mary Jane. The plot takes us out of Europe, which is great because the entire show portion of the series was getting on my nerves personally. Hopefully Ms. Laurie took the lessons learned from this book and doesn't make the same mistakes from previous entries going forward.
Get your Ghoul on with Ghoul Interrupted from Amazon
Characters: We get some huge character development moments for the main cast, which seems to now firmly be, M.J., Gil, and Heath. Of all the new characters, Heath's Mother is probably the most interesting, but again the stars of this show are the main cast.
Overall: This was a big improvement from the previous entry, and while it's not perfect, Gil for one can really tick me off occasionally still, I don't think I'll be dropping the series after this particular entry. We'll have to see what the future holds for later entries though!