I'm back with another Audible Studios series, this time I'm reviewing a Mystery and Thriller series! It's Rogue Island, Book 01 of the Liam Mulligan series by Bruce DeSilva!
Plot Synopsis:  Liam Mulligan is as old school as a newspaper man gets. His beat is Providence, Rhode Island, and he knows every street and alley. He knows the priests and prostitutes, the cops and street thugs. He knows the mobsters and politicians – who are pretty much one and the same. Someone is systematically burning down the neighborhood Mulligan grew up in, people he knows and loves are perishing in the flames, and the public is on the verge of panic. With the police looking for answers in all the wrong places, and with the whole city of Providence on his back, Mulligan must find the hand that strikes the match.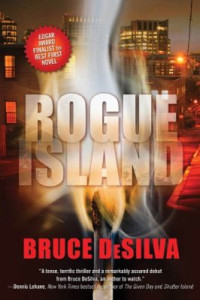 Plot: The plot is great for such a short book, for me at least. It's a classic Whodunit and I loved every minute of the book. That being said there are some sex scenes in the book, but they aren't too bad. Another possible turn off is the constant swearing, but it's really not all that bad.
[amazon asin=0765329816&text=Buy Rogue Island From Amazon!]
Characters: Mulligan is a great lead character, and I love the entire cast. Whoosh is probably my favorite, if only because he's an incorrigible mobster who still happens to be affably corrupt.
Voicework: The reader for Rogue Island is Jeff Woodman and he does a great job, I particularly loved the New Englander accents he gave the characters, as it definitely fits this book to the tee.  I have yet another Voice Actor I need to keep my eyes on in the future.
Overall: This is a great listen, and is comfortably short for those who don't like long books.
For those who like: Mysteries, Thrillers, A Hilarious Main Character, Great Cast of Characters, Excellent Plot, Fantastic Voicework.