Hey all I'm back with another Audiobook from the good folks at Audible. It's The Eerie Adventures of the Lycanthrope Robinson Crusoe by Peter Clines, H.P. Lovecraft, and Daniel Defoe!
Plot Synopsis: Robinson Crusoe is one of the most enduring adventures of the past four centuries and one of the most well-known works in the English language. Or is it? Recently discovered amidst the papers of the 20th-century writer and historian H. P. Lovecraft is what claims to be the true story of Robinson Crusoe. Taken from the castaway's own journals and memoirs, and fact-checked by Lovecraft himself, it is free from many of Defoe's edits and alterations. From Lovecraft's work a much smoother, simpler tale emerges – but also a far more disturbing one….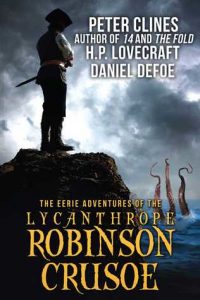 Plot: I won't get too much into the plot, but for those expecting anything other than a truly Lovecraftian story will be disappointed. Take what you will from that line, but you probably won't be wrong, at least not too much.
Characters: Crusoe is the star of this show, which should be expected given he's the titular character. The rest of the cast is equally interesting, although the fact that some characters appear at all is both expected and disappointing. Expected due to who had a hand in this piece of fiction and disappointing because it does take a true English classic and flips it on its head.
This one is action packed and has a really cool, twisted twist. Grab a copy from Amazon!
Voicework: Tim Gerard Reynolds is our narrator for this work and he does just a good a job with this work as the other series I've heard him perform in the past, like The Riyria Chronicles.
Overall: A solid, if a bit dark, twist to a truly classic English tale.
For those who like: Alternative Retellings of Stories, H.P. Lovecraft, Darker Fantasy, Excellent Narration.
Not for those who don't like: Any of the above.