Hey all I'm back with the epic conclusion to the series in my favorite Fantasy/Sci-Fi/Steampunk audiobook series! It's The Wrath of the Great Guilds, Book 06 of the Pillars of Reality series, by Jack Campbell!
Plot Synopsis: The Great Guilds, fearing the loss of their control of the world of Dematr, have gathered their power and joined it with the relentless legions of the Empire. The full might of that host will fall upon the fortress city of Dorcastle. If Dorcastle falls, the revolt led by Master Mechanic Mari and Mage Alain will fail, and their world will soon descend into chaos. Only Mari, believed to be the daughter of an ancient prophecy, can inspire the people and lead the defense of Dorcastle. The prophecy says she has a chance to win, but it doesn't say she will survive…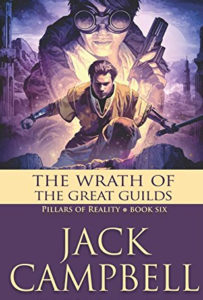 Plot: This was an amazing conclusion to the series, and was almost all nonstop action for 90 percent of the book. Mr. Campbell did an amazing job with the battle sequences in this entry. The battles had a truly epic feel I've only felt from three other authors, George R.R. Martin, Robert Jordan and Brandon Sanderson. Wrath of the Great Guilds had a truly well done conclusion, with a hint of possible sequels occurring in the same universe as well. There were a couple plot threads left for that hint, but I'll leave them for you to find and ponder over. Otherwise every other plot thread was wrapped up in a very satisfying way.
[amazon asin=1625671415&text=Don't be angry about missing out on this series. Grab a copy of Wrath of the Great Guilds on audiobook from Amazon!]
Characters: We don't get introduced to many newcomers, but of the lot I have to say that Claus, Kira and Cumber were my favorites. I honestly can't pick which of those three is my most favorite, so I'll say all three were. Otherwise this entry was focused a bit more on Mari and Alain than side characters. I had to say the rest of the cast was really well done, and I hope we'll see more entries in the same universe so we can continue to enjoy the entire cast of characters.
Overall: An epic and very satisfying conclusion to an epic Audiobook series. If you haven't been listening to the series thus far, go back to the beginning because you won't go wrong with listening to Pillars of Reality.