Hey all. I'm back with another Urban Fantasy series for my Book Review this week! It's Nice Dragons Finish Last, Book 01 of the Heartstrikers Series, by Rachel Aaron!
Plot Synopsis: As the smallest dragon in the Heartstriker clan, Julius survives by a simple code: keep quiet, don't cause trouble, and stay out of the way of bigger dragons. But this meek behavior doesn't fly in a family of ambitious magical predators, and his mother, Bethesda the Heartstriker, has finally reached the end of her patience. Now, sealed in human form and banished to the DFZ–a vertical metropolis built on the ruins of Old Detroit–Julius has one month to prove he can be a ruthless dragon or kiss his true shape goodbye forever.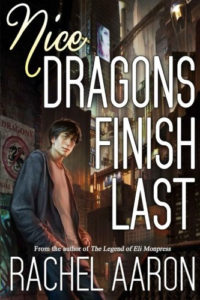 Plot: The plot is pretty great, it's not super amazing on par with something from say Brandon Sanderson, but it's definitely above most novels I've read or listened to before. I enjoyed it quite a bit actually.
[amazon asin=1500506338&text=Jump into the amazing Heartstrikers series with a copy of the first book, Nice Dragons Finish Last, from Amazon.]
Characters: Julius is a pretty decent main character, and while I do think he whines a bit too much or is a bit too naïve, I have to say I still ended up liking him. Marcy, our female lead, is also a great character and I have to say I enjoy her a lot more than Julius to be honest. The rest of the cast is great, especially Bob who is hilariously insane.
Overall: A great start to a series that might just be a must read for any Urban Fantasy fans.
Voicework: Vikas Adams is our narrator for this book and he does a great job with this book. I especially enjoy his work with on the character Bob, because he really fleshes that particular character out. I'll be keeping an eye out from now for future books that Mr. Adams narrates if his work is as good as this every time.
For those who like: Urban Fantasy, Action, Adventure, Drama, Romance?, Great Plot, Fantastic Cast of Characters.
Not for those who don't like: Any of the above.