Hi everyone, I'm back with another Audiobook I reviewed for Audible Studios, this time it's a bit different from previous ones I've done so far. It's all about that Space Opera with The Dark Between the Stars by Kevin J. Anderson, Book 01 of the Saga of Shadows. If you haven't read the entire Saga of Seven Suns, you'll want to leave this page immediately as there are major spoilers for that series below!
Plot Synopsis: Twenty years after the elemental conflict that nearly tore apart the cosmos in The Saga of Seven Suns, a new threat emerges. The human race must set aside its own inner conflicts to rebuild their alliance with the Ildiran Empire for the survival of the galaxy.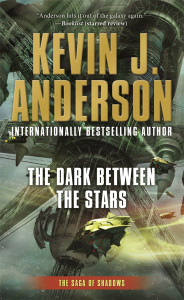 Plot: I love the fact that we get to see so many returning characters from the prequel to this series, The Saga of Seven Suns. Everyone has settled into peace time and things are finally looking good for both the Human Confederation, the reformed government led by King Peter, and for the Ildirans in their rebuilt city of Majistra after it was destroyed in an attempt to stop the Mad Designate Rusa'h. Everyone seems to be happy. Of course since we are getting a new trilogy in this universe it's not going to stay that way, and boy does Kevin J. Anderson turn up the tension quickly in this first book. I won't spoil anything, but if you read the first series you may or may not be surprised.
Characters: Of all the new characters I have to say that Reynald, son of King Peter, is probably my favorite. The rest of the newcomers are all great, every single one of them. I am sad that a few characters from the previous series have passed away in the interval between the Book 07 of the Saga of Seven Suns and this book. However the returning characters are all excellent. Rlinda is still one of my favorites.
[amazon asin=0765369346&text=Pick up The Dark Between The Stars from Amazon]
Voicework: Mark Boyett did an excellent job with this book and I'm looking forward to hearing him do the 2nd and 3rd books.
Overall: This is an excellent sequel to the Saga of Seven Suns, which is a fantastic series.
For those who like: Space Operas, Science Fiction, Epics, Excellent Plot, Fantastic Cast of Characters, Action.
Not for those who don't like: Any of the above, but how can you hate that?