Hi everyone, I'm back with a new Urban Fantasy series that made me laugh till I cried. It's What's a Ghoul to Do? The novel is book one of the Ghost Hunter Mystery Series by author Victoria Laurie.
Plot Synopsis: M.J. and her partner-in-crime Gilley run a "Ghostbusting" business where they tackle cases that are full of spectral activity. However, M.J. and Gilley are in for a whole new can of worms when their latest client comes in asking them to solve the mystery behind his very wealthy grandfather's death.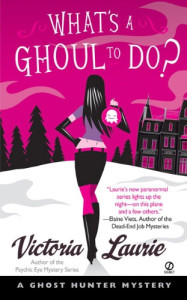 Plot: I enjoy that this series is full of ghosts, and while it's not nearly as good as some other Urban Fantasy series I've read, it's better than the Ghost Seer series by far. For one thing, no awkward sex scenes, and it has plenty of laughable moments provided by every single one of the main characters.
Characters: Doc, M.J's pet parrot, is hilarious and has been corrupted by Gilley who is even more of a laugh. However my favorite is Steven who horrendously butchers the English language. Maybe it's partly due to the punny title, but every time he tries to use a phrase it ends up badly for him and it just made me laugh. M.J. herself however is the weakest of the main characters, but I'm hoping that she'll grow over the course of the series.
Start ghostbusting today from Amazon
Voicework: Eileen Stevens did an amazing job with What's a Ghoul to Do and I really hope to get to hear her do other series in the future. Her take on Steven and Doc is awesome as is her Gilley voice.
Overall: If you enjoy a good whodunit and don't mind a slightly spooky spin, this is a must listen to.
For those who like: Urban Fantasy, Mystery, Fantastic Cast of Characters, Amazing Voicework, Great Plot.