Hey everyone, I'm back with the second entry to a series I started reading for myself, but then learned after the first book, that I could review it for Audible. So I'm continuing the story with Dragonvein, Volume 02 by Brian D. Anderson!
Plot Synopsis: With new friends and allies fighting by his side, Ethan Dragonvein must find a way to overcome the might of the Eternal Emperor Shinzan. As the voices of the dragon's call to him, he is driven to seek them out in the faint hope that they can help him fulfill his destiny and save the people of Lumnia. But he must hurry.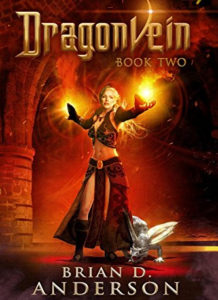 Plot: The plot in this second book starts off a little slow, but once it gets going, it doesn't stop at all. I particularly loved how many plot threads that were left dangling in the first book were continued and/or solved satisfactorily here. I personally can't wait to listen to the rest of the series.
Characters: Ethan is a pretty naïve kid throughout most of this book, but he does get some much needed character development. Marcus and Kat also get some as well, which let me enjoy their characters even more than in the previous book. Jonas is less of a major character in this entry, but he's still pretty involved. The rest of the cast is awesome, and of all the new characters I enjoy Heather the most. I won't spoil why, but I just like her character in general.
Overall: An excellent sequel and continuation of the series, any hardcore fantasy fan will enjoy Dragonvein Volume 02.
For those who like: Transported to Another World Stories, Fantasy, Magic, Drama, Romance, Action, Adventure, Excellent Plot, Fantastic Cast of Characters.
Not for those who don't like: Any of the above.