Hey all I'm back with my first Audible review in a while! It's the sequel to Daughter of Dragons, Blood of Dragons, book two of the Legacy of Dragons Series by Jack Campbell!
Plot Synopsis: Twenty years after the war that overthrew the Great Guilds, the Empire is vowing to avenge the massive defeat of the Imperial legions at Dorcastle. Aiding the Imperials are renegade Mechanics and Mages still loyal to the old Guilds or employed by the Empire. But before they can launch an all-out war, the Imperials must eliminate a major threat: Kira, daughter of Master Mechanic Mari and Master of Mages Alain.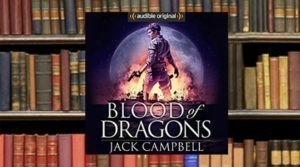 Plot: The plot of this book is excellent, although there are some obvious plot devices that any half-way experienced reader will pick up on well before the characters do. I won't spoil anything, but there is some tying up on some loose plot threads in this book, but with some new ones and some still unfinished prior ones from past books I'm really looking forward to the final book in the trilogy, although I wouldn't mind the author extending the series to really give those plot threads the attention they deserve.
Have you listened to any good books lately? Pick up Blood of Dragons on audiobook from Amazon, and you will!
Characters: This book picks up about 6 months after the end of the previous book, with Jason finally adjusted to living on Dematr, which makes him a much less annoying character than we experienced at the beginning of the previous book. There is also a very large focus on Jason and Kira's relationship in this book, which is just as awkward as any teenage romance can get. The rest of the cast is very interesting, although there are some annoyingly arrogant characters introduced, mainly from the Imperial faction. We even get to see some old faces from the prior books in the universe.
Overall: An excellent sequel to the Daughter of Dragons, and continuation of the storyline started all the way back in The Dragons of Dorcastle.