Hi everyone! I'm back with a series that I just started listening to for Audible and I have to say I enjoyed the Indiana Jones feeling I got from it. It's time to go adventuring with Ramsey's Gold, Book 01 of the Drake Ramsey series, by Russell Blake!
Plot Synopsis: When a forgotten journal materializes decades after Drake Simmon's father died, Drake's life is forever changed…
Plot: The plot is fairly intense, and while there are low-key moments, they are few and far between. I enjoyed the plot of this book quite a bit, although there were parts that crept me out a bit. That being said I found the action and mystery portions of this book reminded me quite a bit about Indiana Jones and while Drake is no Indy I have to admit I enjoyed the comparison.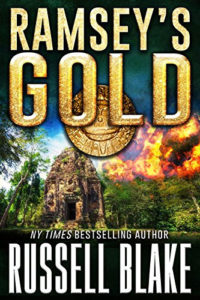 Characters: Drake is our main character and he's kind of a whiny brat, despite being a similar age to my own, at the start. He does get better over the course of the book, but it's sometimes very painful to listen to. Allie and Jack on the other hand are much more likeable from the beginning. They aren't my favorite characters, that honor is left for a certain individual later on that would spoil the book. That being said Allie and Jack were likeable and I hope to see more of them in later books, along with that certain individual. The rest of the cast is good as well.
[amazon asin=B01HDT07OO&text=Have you heard any adventures lately? Try the Ramsey's Gold audiobook!]
Voicework: Ray Porter is our narrator and he did a wonderful job with Ramsey's Gold. I'm looking forward to listening to more of his work in the future.
Overall: For adventuresome types Ramsey's Gold is going to be an instant hit, and for anyone who enjoys a good fiction book it will be as well.
For those who like: Action, Adventure, Drama, Excellent Plot, Great Cast of Characters, Awesome Voicework.
Not for those who don't like: Any of the above.