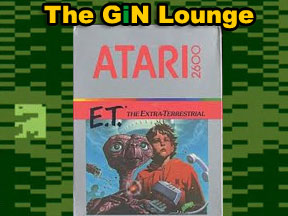 News that the urban legend of Atari burying thousands of Atari 2600 copies of E.T. the Extra-Terrestrial has been confirmed. This has led the lounge crew to think back on other terrible games that should have probably been tossed in as well. But fear not, because while we did come up with quite a few bad titles, overwhelmingly, the games we thought about were good.
Do we simply forget the bad games? Was E.T. really that bad of a title, or was it just a case of bad timing? And what's with Chella's obsession with Shrek games?
These and other mysteries will be revealed in The GiN Lounge this week.