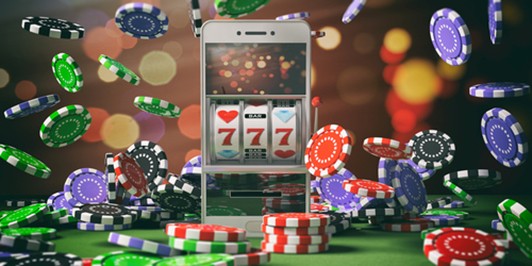 Online gambling is one of the biggest growth markets in the world at the moment. In the United Kingdom alone the remote gambling sector brings in annual revenues of £5 billion with double digit growth forecast for next year.
Poker and traditional casino games may be the most attention grabbing gambling games on the internet but it is online slots that bring in the big bucks. 70% of all online casino profits come from slot machines so it's no surprise that developers invest mega money into producing quality games for customers.
With such a huge range of games available on the internet it can be tough trying to find the right game for you. Luckily that's where we come in, we've compiled this list of the best new slots that you have to play the next time you gamble online.
Vikings
In order to reach out to new customers slots developers are increasingly looking to the world of film & TV for inspiration. You have undoubtedly already come across the fantastic Game of Thrones slot that satiates gambling and Westeros needs at the same time.
This latest slot machine is a must-play for fans of another HBO blockbuster, Vikings. The show is a historical drama based loosely on the exploits of the invading Viking forces that pillaged and terrorised Europe in the thirteenth century.
This slot machine has 78,125 different ways to win so you won't be short changed when it comes to having the chance to win big money. The Vikings online slot has incredibly immersive visuals and sounds from the hit TV series which will make you feel like you're sat right next to Ragnar, Floki and Bjorn as you're spinning away.
In the main five reel game there are 243 active paylines but as soon as the Raid Spins feature is activated that number increases massively to 78,125. The slot's maximum jackpot is 10,000 times your initial wager so there's every chance that you could walk away seriously wealthy after a couple of spins.
It hasn't had the same hype as HBO's other blockbuster Game of Thrones but Vikings is just as good, if not better!
Subbuteo Online Slot
If you're of a certain age then you'll undoubtedly baulk whenever conversation turns to games such as FIFA and Football Manager. For the slightly older football (soccer) fan there is only one game that is worthy of association with the beautiful game – Subbuteo.
The classic game was played on a cloth table with players 'flicking' their players to challenge for the ball and score the all-important goals. This slot game evokes all the nostalgic feelings associated with playing that classic, timeless game.
It is a five reel 20 line slot with some excellent bonuses and wilds on offer to players looking to make a bit of extra cash. Three matching symbols in a payline automatically trigger a win with icons like a king or an ace offering the player the opportunity to multiply their initial wager by 200.
Free spin bonuses take on a distinctly football theme with any successful spin being treated as a goal for your team with unsuccessful ones representing a stunning strike for the opposition. Even if you never had the pleasure of playing Subbuteo as a child you should give this slot a go as it's an instant classic.
Jumanji Online Slot
Robin Williams was magnificent in his portrayal of Alan Parrish in the 1995 fantasy adventure blockbuster Jumanji. The film grossed over $260 million before going on to bring in more sales on video release.
In 2017 new life was breathed into the franchise with Dwayne "The Rock" Johnson taking the lead role. Although the remake didn't receive widespread critical acclaim it was still incredibly popular in the box office and with viewers.
This latest slot game draws by NetEnt draws on all the classic vibes of the original film as well as combining excellent slot machine production technology. NetEnt have chosen to replicate the board game style of the original film and the results are stunning.
The slot has an interactive board game that allows players to trigger multiple free spin games. Further to that there are also 4 randomly triggered bonus features which significantly boost the profitability of the slot.
If you didn't like the 2017 remake of Jumanji and preferred the original, this slot by NetEnt is the perfect game for you.
Virtua Fighter Online Slot
With Sonic the Hedgehog and Pikachu both set for a big Hollywood return to the silver screen it seems that we're living in a time of late 20th century nostalgia. If you're that way inclined then the Virtua Fighter slot is the perfect online slot machine for you.
The arcade fighting game was originally released 25 years ago on the Sega Saturn and still holds the record for the most popular Japanese released game of all time. Playtech are the slot company that have taken on the task of transferring this classic to the world of gambling and they have excelled themselves.
After reaching a rights deal with Sega, Playtech have managed to use all the original characters, sounds and icons from the original game ensuring that this slot remains true to its roots.
It's definitely not a cheap imitation and on top of that it gives you great chances to win buckets of cash. The wildcard symbol which randomly pops up during spins gives players the chance to win 10,000 coins at any one time.
There is also a gamble feature that lets you go for double or nothing, increasing the risk but also increasing your potential rewards.
South Park Online Slot
Tre Parker and Matt Stone's cartoon production South Park was the first show that allowed adults to enjoy the wonder of cartoons with no shame. The adult themed show follows a group of friends in Colorado as they combat complex adult and contemporary themes.
This slot machine is a must-play for anyone that has ever 'wasted' hours of their day binge watching the cult TV show. True to the style of the show, Kenny dies in the opening intro of this slot game.
We meet all of the classic South Park characters in this slot as well as a host of sounds that will have you laughing out the side of your face. There are a wide range of bonuses and wilds available that boost your chances of winning.
But the biggest draw of this game is without a doubt the progressive jackpot which could transform you into a high-roller within a matter of seconds.