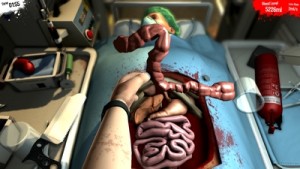 Imagine standing in the medbay of a starship, trying to save a dying alien with nary a clue regarding their inner anatomy. Instruments float above your head in Zero G as you desperately try to remove an unpronounceable but surely deadly organ from the alien's open torso.
Closer to Earth – you're leaning over a hapless (but familiar?) patient in dire need of a new set of lungs, with a plummeting heart rate, and an operating table full of implements you'd hoped never to have to pick up for yourself!
Let's get even closer to home – to you.  You look down and see a pair of hands. As you move, wave and grasp the air they feel like you're own.  These are the hands of Nigel Burke, a would-be surgeon – your very own hands.  Turning your head you see the operating theatre, look up and see the blinding hospital lights – dead ahead lies Bob, the patient waiting for your help!
With the ability of new VR technology to pull you into a virtual world, you've been transported to a new reality – a  hospital in the English county of Barnardshire, to outer space, to the darkly humorous world of Surgeon Simulator – in VR.
Surgeon Simulator has sold almost 2.5 million copies globally and become a firm favourite with the YouTube crowd (with millions of Let's Play videos created). The classic over-the-top operation sim game been reimagined to allow players the intimacy and immersiveness of VR and transformed into 'Surgeon Simulator ER (Experience Reality)'.
Making players feel present and inhabiting the character of Nigel Burke has required a rethink of the original Surgeon Simulator concept. The tactile nature of accurately mapped VR controls has also meant that the game's core physics based gameplay needs new game systems to preserve the difficult, comedy prone elements fans know and love.
As such 'Surgeon Simulator – ER' will offer the surgeries, humour and achievements of the original but with a focus on the unique qualities of VR.
The game will be available on numerous VR platforms in the coming future.