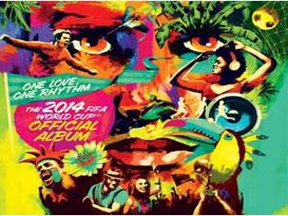 FIFA and Sony Music Entertainment announce today that One Love, One Rhythm: The Official 2014 FIFA World Cup Album will be available at iTunes, Amazon and all major retailers on May 12th.  The album will be released in the U.S. on RCA Records and is available today for pre-order. Spanning the world, the track listing represents artists from Brazil and all over the globe. In  addition, it was announced today that Pitbull's "We Are One (Ole Ola), the Official Song of the 2014 FIFA World Cup TM featuring Jennifer Lopez and Brazilian artist Claudia Leitte is now available for sale worldwide today, April 8th. Click here to listen now!
Fans who pre-order One Love, One Rhythm: The Official 2014 FIFA World Cup Album will receive a download of "We Are One (Ole Ola)" instantly.  The song will be performed by Pitbull, together with Jennifer Lopez and Claudia Leitte at the FIFA World Cup Opening Ceremony on June 12 at the Arena de Sao Paulo.
In addition,  the Official Anthem of the 2014 FIFA World Cup in Brazil, entitled "Dar um Jeito (We Will Find A Way)," featuring a global superstar line-up including music legend Carlos Santana, Wyclef, Avicii and Alexandre Pires, will be available for sale worldwide on April 29th. "Dar um Jeito (We Will Find A Way)" will be performed at the 2014 FIFA World Cup Closing Ceremony on July 13 at the legendary Maracana Stadium in Rio de Janeiro.
"We are very excited about the release of One Love, One Rhythm: The Official FIFA World Cup Album. The partnership with Sony Music Entertainment has allowed us to add some of the world's biggest musical superstars to the FIFA World Cup line-up. I'm sure that music and football fans all over the world will enjoy this great combination of top international stars and fantastic Brazilian artists and that this album will add great rhythm to the footballing action in Brazil," Said Thierry Weil, FIFA Marketing Director.
"We have been working with FIFA for over a decade now and have developed a very successful partnership delivering hit songs and great performances.  For the 2014 FIFA World Cup, we created a music offering which showcases the best superstar talent including Pitbull, Carlos Santana feat. Avicii, Shakira, Ricky Martin, and Magic!  The FIFA World Cup will showcase great emotions and this album delivers the soundtrack for what will be the biggest worldwide event of the year," States Edgar Berger, Chairman & CEO, International, Sony Music Entertainment.
"RCA is thrilled to be part of the Official FIFA World Cup album, celebrating the artistry of RCA recording artists Pitbull, Shakira and Carlos Santana. The FIFA World Cup is like no other sporting event in the world, and we are honored to have our artists standing on the global stage with other Sony Music superstar artists, and taking part in this momentous album release," Added Tom Corson, President and COO of RCA Records.