A melancholy tone pervades the latest trailer for Everybody's Gone to the Rapture, from developer, The Chinese Room.
A spiritual follow on to Dear Esther, Everybody's Gone to the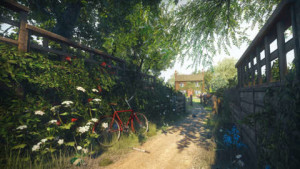 Rapture is set in an English village, but something's gone very wrong. Where are all the people? The trailer hints at some sort of deadly epidemic, with government public information broadcasts playing, as the camera pans over an abandoned nursery school.
Expect lots of setting-based storytelling, with clues to find, as you piece together what's happened, in this first-person walking adventure. Reminiscent of the likes of The Vanishing of Ethan Carter, Rapture promises plenty of eerie, all in rural Shropshire.
In an announcement on the PlayStation blog, Chinese Room co-director, Dan Pinchbeck, said, "We're going to announce a launch date shortly, so stay tuned for that. I'm so proud of the team and the game we've made. Everybody's Gone to the Rapture is going to be really different, an apocalypse like no other, and we think it's going to be good."
We suspect the announcement will come at or around E3, in June. Everybody's Gone to the Rapture is a PlayStation 4 exclusive.