Today, Warner Bros Interactive unveils new gameplay footage of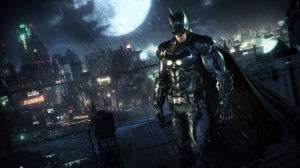 Rocksteady's upcoming Batman Arkham Knight. The new video shows the Batmobile in action, plus the new  Fear Takedown move. One nifty trick, sees Batman hop into the Batmobile in mid-flight, in this action-packed gameplay footage.
Batman's suit looks like it's got more hardware than ever, as Arkham Knight packs in the special moves and combat abilities.
This video is the first of three showing Batman infiltrating Ace Chemicals and taking a whole world of pain to Arkham's villains. Part two is coming on 1 December. Meanwhile take a look at this sneak peak at Rocksteady's grand finale for its trilogy.
Arkham Knight launches in June 2015 for PC, PlayStation 4 and Xbox One.