Slang N' Friendz, the word game reinvented, launches today! This mobile game gives players of all ages the chance to communicate using their favorite words by incorporating a dictionary database of slang words compiled from across the globe! Hip Hop and Film Superstar Ludacris and Founder Edwin Benton joined forces to release Slang N' Friendz, which was inspired by the frustrations they felt from being unable to play commonly used words, or slang, in traditional word games. Today marks the chance for players worldwide to be able to connect, learn, and 'express yo self!'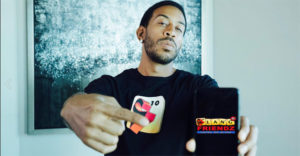 What makes Slang N' Friendz unique is this free mobile game encourages people to explore both traditional and alternate words, express themselves while simultaneously transforming the word game genre. The game provides slang definitions, customization features and allows users to add new words to the game. Whether it's slang from today or the past, from the US or abroad, Slang N' Friendz aims to make slang words more transparent and accessible to everyone. The game's motto? United We Slang!
"Our goal is to provide users with a fun, compelling and unintimidating word game where they can be themselves, learn and represent where they come from. Our purpose is to connect people across the world and allow users to engage with someone they wouldn't normally meet. Slang is universal and could the driving factor that brings us together and one day, possibly change the world." said Edwin Benton, CEO & Founder of Slang N' Friendz.
"In a time when so much of the world is divided, technology has the opportunity to bring us together. Slang N' Friendz encourages users to connect, be friendly and identify what they have in common through language. It's also a chance for different generations to learn about each other's unique forms of communication and find ways to use language to bridge generation gaps," said Christopher Bridges (Ludacris), Co-Founder of Slang N' Friendz.
Available for mobile users to download for free through the App Store, Google Play or by logging in via Facebook or email, Slang N' Friendz introduces players to slang words from all over the world and provides them with up-to-date definitions. Players are instantly connected to a community of users from across the globe and are placed into one-on-one matches.
How Does It Work? After downloading the free app, players are instantly connected to a community of users across the globe. Players have the choice of playing against a random user, a friend, or even by themselves in one-on-one matches. Players are then given "letter tiles," which allow players to gain points by playing them vertically or laterally on top of each other to form a word; an in-game coin currency system is available to up-level the user experience and strategy, including an option to peek inside the "Tile Pile" to see which letters remain.
More information about the game is available at www.slangnfriendz.com.