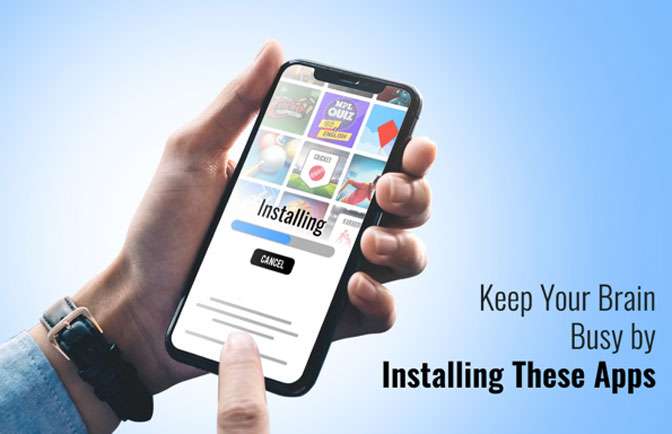 Whether you are feeling overwhelmed by too much day-to-day stress or struggling with your work-from-home routine, keeping your mind relaxed and active can help you to cope. Staying mentally engaged can even reduce the risks of developing cognitive disorders as you age.
When it comes to keeping up your mental health, keeping your brain engaged and active is more important than ever. It will help you focus on your work and career and improve the overall quality of your life.
If you wish to take steps towards keeping your brain busy, here are some must-try apps.
Lumosity
Lumosity is an application that helps users enhance memory, augment focus and feel sharper with its daily brain-training exercises. The application is suitable for anyone of any ability level or age.
It will adapt to the strengths and weaknesses of the players. It helps with cognitive ability, mindfulness, and concentration.
While the app's fundamental subscription is free, and users can play three brain games a day, the monthly subscription starting at $11.99 can unlock more games and features. In addition, new games are added daily; hence, purchasing the subscription will be worth your money.
Block Puzzle
Games offer much more than entertainment – they keep the brain active and make one think outside the box. It calms the senses and helps enhance your problem-solving skills. One such spectacular game that has gripped the world in its frenzy is the Block Puzzle game online, inspired by Tetris.
The online matches are time-based and last for five minutes. You can compete against other players of varying experience and skill levels. 1V1 games are free, or you can play 1VN tournaments by paying a small entry fee. The contests offer lucrative rewards that are won by beating the other participants.
The matches are won by sheer talent and intelligence. Three blocks will appear on the screen; whether you win or lose depends on your placement skills. The objective is to remain in the match as long as possible, so there are more chances of clearing the grid and scoring points.
Duolingo
Duolingo is an application for anyone who wishes to learn another language. The application provides users with bite-sized lesions in over thirty-five languages. There are also minigames and a community of over three hundred million users to keep users engaged.
Install this app to start learning a new language and refresh your knowledge. It is a great practice tool, and you'll become a pro in no time. Although you can use the app for free, you can unlock additional features by purchasing a subscription.
BrainHQ
BrainHQ is a brain training application designed by a team of neuroscientists. The app enables users to take courses to target a specific brain-training objective, such as brain speed, people skills, or enhancing memory. The range of the course may last between a few hours to twenty hours.
However, you don't have to put in 20 hours, but the exercises are broken up into two-minute segments, so it is easier for you to fit these exercises into your busy schedule.
Moreover, the exercises are continuously adapted to your performance, ensuring that the activities are perfect for you. You can track your progress in the application and compare it with your previous performances or others in your age group.
BrainHQ's developers have sponsored a study to measure the impacts of the app on attention and memory in about five hundred adults aged 65 and older without any cognitive impairment. One of the groups trained in 6 exercises for one hour a day, five days a week. Another group took quizzes and watched educational videos. After eight weeks, more significant improvements in attention and memory were seen in those who completed the training.
Wordle!
Wordle! boasts over 1 million downloads on the Google Play Store alone. It is a jazzy word game application where users are presented with daily puzzles. For example, you get six guesses to solve the word of the day, which might be five letters long. The results of every game can be shared with your friends to compare with them or add friendly competition to the menu.
You can go beyond the word of the day challenge and participate in timed word challenges. These challenges involve spelling a word before the timer ends. You can also try the secret word mode, where players must guess as many words as possible to score the highest. Players get three chances to guess the right words with the clues provided; if you don't guess correctly, you need to start over.
Impulse – Brain Training
Impulse is a popular application and number one in the App Store's health & fitness category. The app boasts over twenty million users. Users can set goals in the application and receive a customized brain training program.
The training programs include games and bite-sized puzzles that aim to enhance players' cognitive skills, such as attention, memory, mental math, concentration, creativity, and problem-solving. Moreover, the application tracks the users' progress as they progress through the training program and provides insights into their strengths and weaknesses. You'll get suggestions to improve your weak areas.
Wrapping up
Installing these apps can do wonders to keep your brain busy. It will make you sharper and calmer. You'll always have some go-to activity to keep yourself engaged whenever you are overwhelmed or bored. So, make your choice and tap download.