It won't be long until the first games of the first Regionals of the Winter Split will be getting underway, on the 14th January 2022 to be exact, so what better time to take a look at mid season transfers, which organisations have joined the RLCS? Which existing organisations have made roster changes? If we're all about ready then we may as well jump straight into it right?
First up, we'll talk about some of the big name transfers, which much to my surprise there aren't actually that many! The first and arguably the biggest name transfer, note that was in italics because for the time being it isn't necessarily a transfer. Team Liquid picked up their RLCS Roster during RLCS X, they dropped the legend Kuxir and picked up Ronaky from FC Barcelona who was at the time the player with the highest goals per game average of ALL players in the EU region, which was crazy given some of the players in the region. He was picked up with the hopes of turning around their fortunes and carrying Fruity and Speed to glory.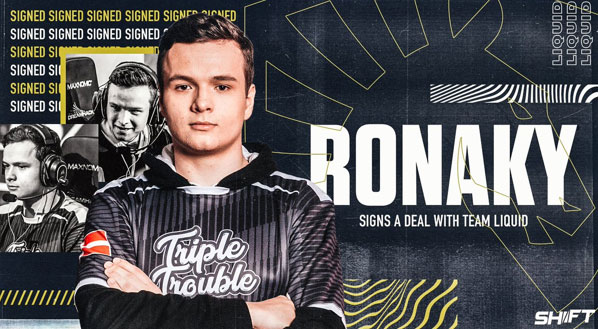 Well, it never really worked out like that and they struggled, massively. Placing top 8 in ONE SINGLE regional, not even qualifying for all of the regionals in the season. They did well in the grid however claimed 3 top 4 finishes, one being a 2nd place finish losing out to Giants (news on them coming shortly!) which for an organisation the size of Team Liquid realistically isn't good enough. Ronaky has found himself moved to the inactive roster alongside Flakes, so he could be used as bait to trade for somebody else, or he may just be dropped, only time will tell. For now however, Team Liquid only OFFICIALLY has a coach (Xpére) and AcroniK who is a very solid player to build around. However they did compete in the Monaco gaming show with Oski and Atow. So it could be interesting to see where that roster goes.
Next up, Vodafone Giants! Giants kind of surprised us all in the summer with their move to drop their roster that played relatively well but maybe needed just a little more pushing behind the scenes to get to the next level (Zamué, Stake and Itachi) and replaced them with Atomik, DmentZa and VK-Sailen in what was an even wilder move by Team Queso, after a pretty successful RLCS X, they just gave up their roster to Giants. Well, in a pretty crazy turn of events, Giants have started to break up that roster for better or for worse with DmentZa being released.
DmentZa has joined up with fellow spaniards, Zamué and xTehQoz (With xTerazzz as their coach) over on orgless team Pepitos Canyons, a team that started back in 2019 before they got picked up by RCD Espanyol, Zamue taking it upon himself to revive the name and bring it back for the Winter Split it seems, will they have what it takes to qualify for any regionals this split? I have faith in DmentZa and Zamué, with their experience in the competitive scene, that they'll make playoffs in at least ONE of the three regionals this split.
I'd go as far as saying I'd put money on them making the top 8 in EU Regional 2. You may be wondering why I specifically said Regional 2, honestly that's purely to give them time to get used to the heat as it were in regional 1, but also they're running a different format to the Fall Split. Fall Split ran a Swiss stage before an 8 team single elimination playoff bracket. The Winter Split is running a group stage with the top team from each group advancing to the upper bracket and the second and third placed teams advancing to the lower bracket.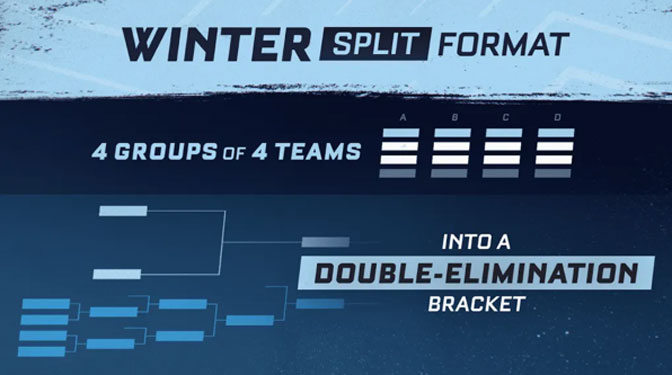 Those teams in the upper bracket will have an advantage however as they will be given a second life as it were, losing means dropping to the lower bracket where they get a second chance. Honestly the betting odds for this format will be kind of crazy as some teams THRIVE in this environment, others not so much. So it'll be interesting to see who will rise to the challenge and who calls it off until the Spring split.
The last transfer I want to talk about before we wrap up is Crr. Crr made a name for himself in RLCS X as the mechanical genius of White Demons, at only 15 his debut season was pretty incredible, you could see he was quite raw when it came to the "intricacies" of competitive play, but his ability to turn nothing into magic was pretty awe inspiring and he had a lot of people talking. Well, his and the White Demons hard work was rewarded when FC Barcelona returned to Rocket League, picking up the roster which comprised of DORITO, Crr and Zamué, of course we know Zamué is now playing with DmentZa on Pepitos Canyon after he was released in November, but Crr appears to have just… Left FC Barcelona of his own accord, leaving D O R I T O and their coach Braan up a creek without a paddle. Crr hasn't yet joined another roster but keep your eyes peeled for updates!
That's going to do it for this one, some interesting moves by some big name players in the EU scene, we would have branched out a little and talked about more than EU transfers but honestly there haven't been any big name moves in the NA scene. A few team changes in the lesser regions as it were but nothing of note really. All I know is, I can't wait for the Winter Split to start! Take care folks and if I don't see you before, Happy New Year!