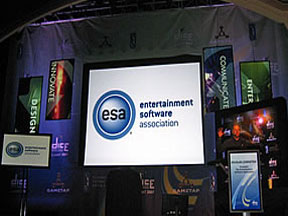 Each June, the world turns its attention to the Los Angeles Convention Center (LACC) in downtown LA, where the future of interactive entertainment is on full display at E3. While E3 is known the world over as the place to experience the latest video games, technologies, and other innovations, most people probably do not know how much work is required to build the entertainment software industry's premier global trade show. Here are 10 facts about E3 2014 that may blow your mind:
1.The Ethernet cables used at E3 could stretch from Los Angeles to Salt Lake City, from New York City to Chicago, from Denver to Dallas, or from Madrid to Paris. In total, these cables weigh more than two tons.
2.E3 features more than 35,000 video monitors and more than 6,000 pieces of furniture.
3.The meeting rooms and exhibit spaces at E3 could fill nearly eight U.S. football fields, approximately 34 Olympic-sized swimming pools, or more than seven White Houses.
4.Truss and hoists at E3 – used to suspend lighting and hanging decorations – weigh the equivalent of 26 African elephants, 54 mid-sized SUVs, or more than seven F-18 fighter jets.
5.The amount of bandwidth required for three days at E3 is more than most U.S. cities require in a year.
6.E3 employs more than 3,000 people during the course of producing the show, including an army of 45 network engineers who work to complete the on-site Internet/Ethernet installation in the three weeks leading up to the big event.
7.If the total data moved over the Internet at E3 was printed on size 8.5 x11 paper and stacked vertically, it would be taller than the Empire State Building.
8.More than 55 miles of fiber optic cable is used at E3, enough to reach the mesopause – the coldest part of Earth's upper atmosphere.
9.The LACC's electricians use nearly 10 miles of extension cords at E3 and nearly five miles of duct-tape to secure cords to the floor. The show also installs approximately five miles of carpet throughout the LACC.
10.For the first time, millions of gamers from around the world will be able to experience E3 by tuning in to Twitch.TV's live stream of the expo floor. Viewers can also watch press conferences, original interviews, and behind-the-scenes footage of the event.
E3 officially kicks off at the LACC on June 10. To experience the excitement of E3 for yourself, visit: http://www.e3insider.com.