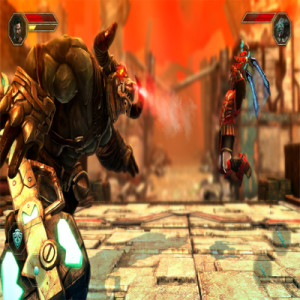 Vivid Games, the studio behind the award-winning Real Boxing, revealed today at the E3 Expo in Los Angeles a slew of new and exciting information regarding the launch of their next-gen action-adventure mobile game – Godfire: Rise of Prometheus.
Setting the gears in motion for the game's release is the epic cinematic trailer created by co-developer of Godfire: Rise of Prometheus, Platige Image – the Academy Award nominated and BAFTA award-winning animation studio – depicting the game's protagonist Prometheus as he battles a never ending onslaught of enemies, finally revealing the title's exact release date – June 19th 2014.
In vein of the trailer's theme comes the unveiling of Survival Mode, where players fight endless waves of opponents that grow in strength as each one is defeated. With an array of power-up abilities to choose from before battle, godly gifts in-between waves, and a number of social features letting players compete amongst themselves and the world, Survival Mode is sure to entertain players for hours upon hours after finishing the epic story of Prometheus and his quest to deliver Godfire to mankind.
Godfire: Rise of Prometheus is not only a truly next-gen experience for mobile, but also breaks new ground for games on the platform with the limited collector's Titan Edition available alongside the standard digital release. Packaged inside a special collector's box will come a highly detailed 8.7 inch / 22 cm figurine of Prometheus himself, 100-page hardcover art book showcasing the game's unique design, a high-quality Godfire t-shirt, and a redeemable voucher code for the game. The Titan Edition will be available for purchase via the game's official website and shipped worldwide.
The game follows Prometheus who, having stolen the Godfire Spark in a bid to share its power with all of mankind must battle his way through a world where myth meets technology, with hordes of enemies and giant mythical creatures looking to end him at every corner. With visuals powered by the Unreal Engine, unparalleled freedom in gameplay and customization, Godfire: Rise of Prometheus is a truly next-gen title for mobile that is set to revolutionize the genre when it launches.
Godfire: Rise of Prometheus will launch June 19th as a Premium title exclusively on the Apple AppStore.