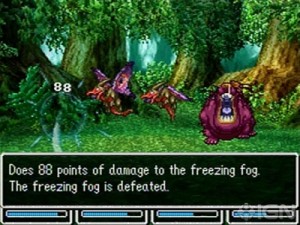 Square Enix today announced that the classic role-playing game, Dragon Quest VI: Realms of Revelation, is now available on compatible iOS and Android devices. Players will set out on an epic adventure spanning two parallel worlds, where they must join forces with a diverse group of characters in order to save the world from darkness.
Dragon Quest VI: Realms of Revelation is the final chapter of the Zenithian trilogy, concluding in an expansive quest of a young Hero who sets out to learn the truth about his world and the mysterious phantom realm that lies beneath. Journeying across a vast and dangerous land, players must confront the Hero's destiny and recover his long-lost memories in order to unite and save the two worlds.
With its simple and intuitive controls that work perfectly with the vertical layout of mobile devices (facilitating both one and two-handed play), Dragon Quest VI: Realms of Revelation also allows players save at any time through the Quick Save function allowing players to rejoin the action right where they left off. In addition, the title includes work from the legendary trio of creators – Master Creator Yuji Horii, revolutionary Music Composer Koichi Sugiyama and Art Director Akira Toriyama – setting forth a truly stunning and thrilling tale.