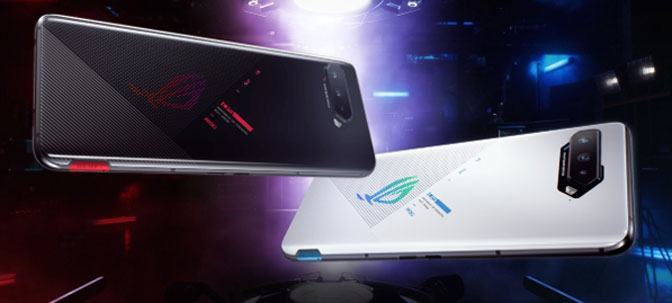 Mobile gaming is a massive part of the video games industry. In fact, the majority of people play games on their mobile device. Users who do not consider themselves gamers access casual games on their smartphones. While just about every handset can handle Candy Crush or Clash of Clans, mobile gaming also offers more graphically intensive titles.
You can think of mobile gaming as one console generation behind. So, as we move to the Xbox Series X and PlayStation 5, games on smartphones are equal to late generation games on Xbox 360 and PlayStation 3. However, to play these games and have the best experience, you need a mobile device up to the task.
One of the best ways to find the top gaming phones is to use a comparison site to compare smartphones. Because you can filter across many metrics you can find the best phone based on your requirements.
Below we will give you a head start by listing the best gaming smartphones you can currently buy.
Asus ROG Phone 5
For several years, the Asus ROG Phone range has provided the best hardware for mobile gamers. With the ROG Phone 5, Asus has continued its dominant streak by making some improvements over the ROG Phone 3 (there was no ROG Phone 4). Thanks to its best-in-class, game-centric hardware, the ROG Phone 5 truly feels like a hand-held console as much as it does a phone.
You get Qualcomm's Snapdragon 888 CPU combined with 16GB of RAM and a Quad HD screen that has an amazing refresh rate of 144Hz with a touch sampling rate of 300Hz. The 6.7-inch display is massive to give you plenty of gaming real estate, but the ROG Phone 5 never feels cumbersome in hand.
With the best (dual front-facing you'll be pleased to see) speakers on any smartphone and a 6,000mAh battery, the Asus ROG Phone 5 is heavily spec'd, heavy duty, heavy hitting device. You also get some gamer-focused additions like programmable RGB lights and shoulder buttons.
The ROG Phone 5 would be in with a shout of being the best smartphone available if it was not for its average camera, lack of waterproofness, and gamer-centric design.
Razer Phone 2
When Razer threw its hat into the gaming smartphone market with the original Razer Phone, many were excited. After-all, this was one of the biggest names in the gaming hardware market. However, the original Razer Phone was nothing more than a good first attempt, not the spectacular game-changer many thought it would be.
With the Razer Phone 2, the company is back and has removed many of the small problems that plagued the first model. This feels like a more rounded device that lives up to its calling as a gaming smartphone. Shortcomings are now few, although there are some major caveats with this device.
Most notably, the Razer Phone 2 was launched back in 2018. Yes, it is nearing three years old… people looking for bleeding edge specs should look elsewhere. It is also likely Razer will not release a Razer Phone 3, so this is where the line stops. What that means for ongoing support is unclear, but it is obvious the Razer Phone 2 is not futureproof.
Still, if you want a gaming smartphone for the here and now, the Razer Phone stacks up well. It runs Qualcomm's Snapdragon 845 chipset with 8GB RAM, a 120Hz display refresh rate, and a 4,000mAh battery. So, why get a three-year old phone? Well, you can not pick up the Razer Phone 2 at a bargain price, making it an affordable alternative to a device like the Asus ROG Phone 5.
Xiaomi Black Shark 3
Xiaomi has carved a name for itself – as well as plenty of success – by building on what other brands have done, throwing all the specs at a device, and then selling it for less than rivals do. And that is the same formula the company is using for its Black Shark sub-brand. So, with the Black Shark 3 you get solid specifications at an affordable price point.
Think of this as the gaming phone for the consumer on a budget. It has a typically "gamery" flashy design, complete with LED lighting. There is a 6.67-inch Full HD screen with a refresh rate of 90Hz, a Qualcomm Snapdragon 865, 8GB of RAM, and stereo speakers.
It does not match the Asus ROG Phone 5 in sheer specs appeal, but it costs around half the money.