Michael Blaker
Game Industry News is running the best blog posts from people writing about the game industry. Articles here may originally appear on Michael's blog,
Windborne's Story Eatery
.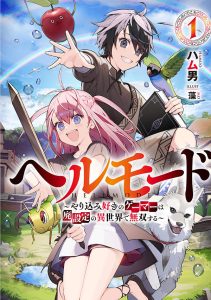 Hey all, I'm back with another Tensei/Isekai series for this week's Translation Necessary Thursday. It's "Hell Mode: Volume 01" by Hamuo!
Plot: The story revolves around a boy named Allen. He used to be a gamer from Earth and was offered a chance to play a game that would never end. He decides to do it on the hardest difficulty, Hell Mode, and he ends up reincarnating into a serf.  He's the only one to be stuck in Hell Mode in this new world, so he's discriminated against. However, with high difficulty comes high rewards so he ends up becoming pretty strong regardless. This isn't some power fantasy though; the main character has to work for his strength, so the plot is actually pretty awesome. I won't say more, because that'd be super spoilerific, but this is one of those novels worth checking out.
Characters: Allen is our main lead, and Krena is another major character.  They're both pretty fun characters. Frankly, the entire cast is great, though some of them are not expanded on too much sadly.
Overall: This is a fun first volume in a very promising series thus far. I haven't read past volume 2, but I was impressed which isn't easy to do.
For those who like: Fantasy, LitRPG Elements (sort of), Intriguing Plots, Great Cast of Characters.
Not for those who don't like: Any of the above.