Michael Blaker
Game Industry News is running the best blog posts from people writing about the game industry. Articles here may originally appear on Michael's blog,
Windborne's Story Eatery
.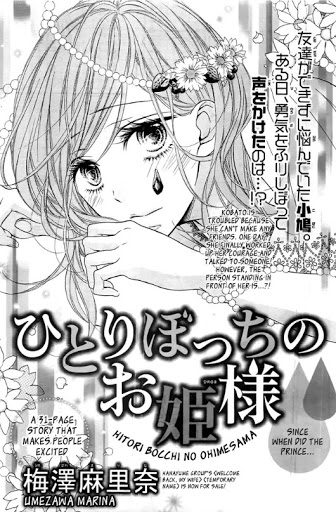 This week for Sensate Saturday I'm covering another One-shot! It's Lonely Princess, or Hitoribocchi no Ohime-sama in Japanese, by Umezawa Marina!
Plot Synopsis: Kobato is troubled because she can't make any friends. One day, she finally worked up her courage and talked to someone! However, the person standing in front of her is…?!
Plot: This is a very short one-shot but I really enjoyed it despite it being so short. It was sweet and quite romantic, if somewhat stereotypical. It wasn't anything super original, but despite that it was still quite good.
Characters: Kobato and Takagaki are our two leads and they are quite good. Kobato had a traumatic past and is afraid of talking to people, while Takagaki is a generally good person all around. They aren't really original, but they portrayed the stereotypes very well.
Art: The art was excellent. I have to say that it wasn't the best Shoujo manga I've read in terms of art, but it was easily at a Shueisha quality level.
Overall: An excellent, if short read.
For those who like: Romance, Slice of Life, School Life, Shoujo Manga, Good Characters, Decent Plot.
Not for those who don't like: Any of the above.