Michael Blaker
Game Industry News is running the best blog posts from people writing about the game industry. Articles here may originally appear on Michael's blog,
Windborne's Story Eatery
.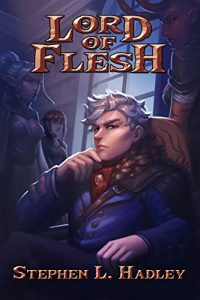 Hey all I'm back with the first entry in a Fantasy story I read a bit ago for this week's Bookish Wednesday. It's Lord of Flesh by Stephen L. Hadley!
Plot:  The plot is pretty freaking stereotypical, Scion of the lower noble house VanOrden, Leo, is the last member of his family and now after the death of his grandfather has become the Baron. However the death of his grandfather brought with it the vultures and the VanOrden is nearly destitute and confined to a single small estate in the capital of Ansiri.
He wants to get payback against everyone and everything that took away his family's fortunes. Like I said this is a pretty stereotypical plot. Honestly this is just a tad too dark for my tastes, though the darkness is much more prevalent in later entries in the story. I will admit I stopped reading it later on, due to certain events.
Characters: As is probably obvious Leo is our main character and point of view in this book. But the rest of the cast is just as good. I particularly enjoyed Bridget and Delia.
Overall: A fairly dark Fantasy novel that is well written, but just a tad too dark and angst filled for my tastes.
For those who like: Fantasy, Political Intrigue, Drama.
Not for those who don't like: Any of the above.