Michael Blaker
Game Industry News is running the best blog posts from people writing about the game industry. Articles here may originally appear on Michael's blog,
Windborne's Story Eatery
.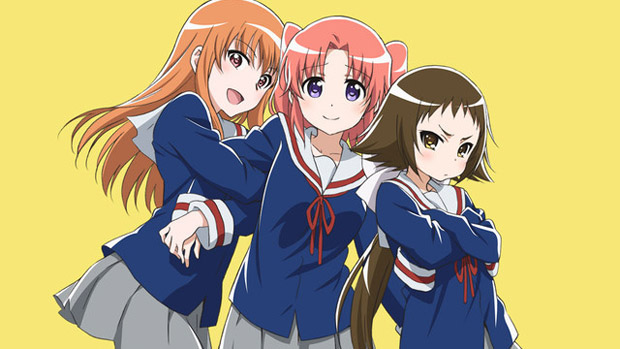 This week on Anime Sunday I'm covering a series that aired this past winter and was fairly good. It's Mikakunin de Shinkoukei, or Engaged to the Unidentified in English.
Plot Synopsis: Kobeni Yonomori is a high school girl who lives with her mother and older sister Benio. Upon turning sixteen, Kobeni is shocked to learn that, due to an arrangement by her late grandfather, she is engaged to a boy named Hakuya Mitsumine who, along with his little sister Mashiro, come to live with Kobeni. As Kobeni spends time adjusting to this new family, she learns there is more to Hakuya and Mashiro than meets the eye.
Plot: The series is based off a 4-Koma (4 panel comedy Manga) and thus takes nothing seriously except maybe the fact that Kobeni and Hakuya are engaged to be married. This show has lots of laughs, although not as many as Gekkan Shoujo Nozaki-kun.
Characters: I have to admit that I found Benio and Mashiro highly annoying, and Hakuya while being incredibly unemotional is more my type of character. I don't tend to enjoy series that are based off 4-Koma, except for Nozaki-Kun and this one.
Art: The art is as crazy as you'd expect it to be for a 4-Koma adaptation, it's very colorful (although not in the way of No Game No Life).
Music: The music is as crazy as the art and that's not a bad thing, I didn't particularly like either the opening or ending themes, but that's just because I don't find that particular sub-genre of J-Pop appealing.
Overall: If you want a few laughs you might want to check this show out.
For those who like: Comedy, Romance-Comedies, Slice of Life.
Not for those who don't like: Any of the above.