Over the July fourth weekend, the city of Austin, Texas found itself invaded by people from across the world, best described by the numerous signs plastered across the city as "The Internet." Over the past 15 years, we've seen the rise of company based conventions; these include BlizzCon, PAX, and MineCon. The past six years have shown the growth of one company in particular, Rooster Teeth, with their ever growing convention called RTX, or the Rooster Teeth Expo.
For those who don't know Rooster Teeth, they got their initial fame out of their Halo machinima series Red Vs Blue, but they would eventually start a group called Achievement Hunter which led to Let's Play's which are both popular gaming channels. Lately they have gotten into some pretty heavy production and have a hugely growing anime known as "RWBY" as well as a show known as "Day 5." And they also did a crowdfunding film known as "Lazer Team."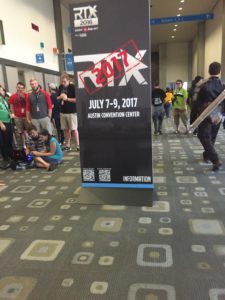 This year's RTX convention continued the pattern of growth, hosting 60,000 attendees, hundreds of exhibitors both big and small, and a weekend packed full of exciting and varied events. Lasting from July 1st to the 3rd at the Austin Convention Center in Austin, Texas this year's RTX continued to prove that the size of a company has nothing to do with the quality of their product.
The first thing anyone notices when going to a convention is of course the location, the Austin Convention Center is a surprisingly big and open center as looking at it from the outside makes it appear rather small at first. The building was large and open offering multiple floors high ceilings and wide open corridors which are all hugely helpful for an event like RTX. The venue of choice made getting from floor to floor easy and travel to major panel rooms usually easy except in a few areas that were clear bottle necks. The main exhibit floor was quite large but also packed with vendors making the routes between booths feel like crowded streets. This sort of tightly packed area while I myself only had a few problems with could become an issue especially for people who are claustrophobic as large groups of people would end up blocking entire routes and sections.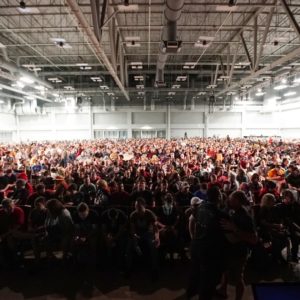 Panel rooms were generally large enough to fit all the people you'd want for a panel; they never felt too small or too large they felt just about right. The only real issue with space I ever found was during extremely popular or populated events air conditioning was minimal. I am someone who has a problem with sweating especially in any place that's more than warm. This issue would become quite large during day 2 during the game show "On The Spot" as the entire hall was packed, likely more than capacity, and putting thousands of people close together with little air conditioning makes for a hot and physically uncomfortable time. Overall however, the Austin Convention center was a great choice for the show and was great for the number panels going on. The city of Austin wasn't a bad place either; traffic was generally quick, food was great with a number of different options, and it honestly it was one of the most welcoming feeling cities I have ever visited.
RTX this year had just about every day packed with events that ranged from classic panels like the RWBY and Kinda Funny panels, to a live chainsaw wood carving, to an interactive haunted house. So it's easy to say there was something for everyone who attended. For all the panels and events I managed to go to, they were all well done, most started on time (some even started early!), and they all felt real and full of passion. This sort of feeling of intimacy and spontaneity made every event feel close; at no point did I ever feel in any event that there was a sort barrier between me and people I was watching. I remember specifically in the Kinda Funny Panel Greg Miller had taken his shirt off (as he has a tendency to do) and began to rub his chest hair, this situation only got weirder as only a few rows back from Achievement Hunter's Geoff Ramsey was coaxed by Greg into doing the same thing. That sort of randomness and "only at…" feeling made the whole event feel a lot less massive and more like a bunch of friends getting together and having fun.
Even if one didn't find much to do in terms of planned events each day the exhibit hall offered more than enough in the way of spending time (and money). The main exhibit was packed with booths ranging from nerd based clothing companies, to charity and blood drives, all the way up to a giant Twitch booth. Honestly it was almost overwhelming if it weren't for the fact that there were signs hanging up always able to give you directions when you needed it.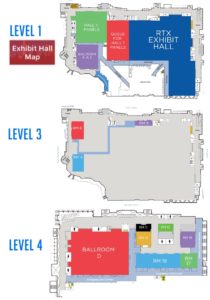 There were a number of games on the floor including but not limited to: Halo Wars 2, Lawbreakers, Shadow Warrior 2, Halo 5, Day Z, and Rooster Teeth's own game RWBY Grimm Eclipse. Alongside those playable titles the center stage was host to a number of previews and matches for a number of games like God Eater 2 and lawbreakers. Among the other booths at the event were Filthy Casual, Alienware, Pizza Hut's Retro Arcade, Insert Coin, Extra Life and many more. The exhibit hall was also pretty much home to the impromptu signings they would often start up signing sessions and picture sessions that, while they capped off rather quickly, were always nice to see so as to give more people a chance to see some of their favorite internet personalities. It was also common place to run into one of the stars to get a quick picture or conversation, while sometimes one might have only gotten the chance to spot someone sometimes that was enough like in situations where Adam Ellis was dressed as Solaire from Dark Souls or even Miles Luna and Gray Haddock dressed as guardians "sneaking" (I use that word loosely) through the exhibit hall.
One interesting thing that RTX did this year was the addition of signing tickets. So in short after purchasing a ticket to RTX you were given a code that would allow you to sign up for an autograph and picture session with a few stars. Now the process was easy enough on the day the tickets went live (two days early for VIP ticket holders) you picked whatever session you wanted to go to unless it was sold out. Now at first I wasn't too excited about this because with the limit to one session per ticket it felt restrictive since it would be hard at times to get a signing on the side with certain figures. However, after experiencing it I honestly can't complain. The signing was well organized and speedy the fact that sessions were now restricted removed the worry of showing up too late to a signing and missing the big one you wanted to go to. Of course if your signing of choice was sold out (which some were after the VIPS got their early picks) it would be a bummer but many stars did 2 or 3 signings anyway so you could generally catch someone. Also I feel it is worth noting that the stars of the signings were so great about it. They always had smiles on their face and always were friendly.
I mentioned earlier that there was a VIP category for people. People who bought VIP tickets were given access to a few special benefits. Now, I will say I myself was not a VIP badge holder. I only had the weekend pass so this won't be based upon experience but information available. VIPs had early access to the exhibit hall on all three days, they had a special VIP room in the hall, they got access to marked front row seats, and were given early access to certain events along with a VIP only party. These of course while all nice for the VIP holders made little difference to me as a standard weekend pass holder. I never felt I was being shortchanged or being treated as lesser by not having spent 300 dollars for passes that, if I'm not mistaken, sold out in minutes if not seconds.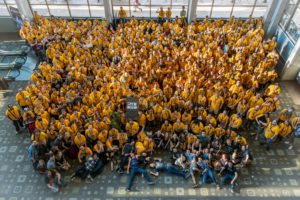 There is one more thing I would like to mention about RTX and that is the Guardians. The Guardians were people who gave up their weekend to help run the event. I cannot say enough good about them. They were professional and friendly and were always willing to lend a hand no matter what. They were truly the heroes of RTX and they deserve all the recognition they can get.
Once RTX was over I was drained but in a great way. It was a weekend that seemed to fly by and was full of unforgettable moments. It was an event that felt much more like a gathering of friends than strangers. Honestly there was so much in RTX it would be nearly impossible to list everything that made it special. Being about a week out from RTX's close at the time of writing this, I have not only managed to dodge post-con flu but already begin planning for RTX 2017. There is no doubt in my mind you will see me out next year in the Austin heat surrounded by friends and inspirations on July 7th through the 9th doing it all over again.