This year's Awesome Con was celebrated June 3 – 5 at the Washington Convention Center in Washington, DC.  My day for attending was on Saturday June 4th and this would be my first popular culture convention since the mid 1990s. The excitement grew as the weekend approached and I knew Saturday was going to be great. Awesome Con began on Saturday at 10 am; though due to Metro track work I arrived a half hour after opening.  A bit disappointed that I had missed the first half hour, I found my way to the main area for badges and then headed straight for the exhibit hall. The volunteers working Awesome Con could not have been more helpful or friendlier, they answered questions and directed the attendees with such professionalism.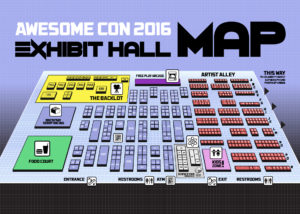 The exhibit hall was grand.   The floor had an entire section devoted to artists promoting and selling their works. I saw a lot of comic artists and some anime. In the back was an area with arcades that were free to play for attendees. The arcade area was always crowded with people playing popular titles, including Pac-man.  On the subject of games, off the exhibit floor and on the upper floor was a room with video game consoles. All day, attendees can sit and play classic games, like Super Mario Kart and Mortal Combat. I was looking for newer titles to try out but it was great to have the option of gaming on classic consoles and arcades.  During the day panels and Q&A sessions were held. Due to the morning delay I missed out on the Star Wars panel but had the opportunity later to listen to best – selling Star Wars author Timothy Zahn.  I also have to thank Awesome Con for providing a guide in the Guidebook to save time and plan the day.

Awesome Con had many celebrity guests, including Karl Urban, Adam West, Ron Perlman, John Barrowman, Ray Park, David Prowse, and many others including Comic guests and professional cosplayers.   I did get one autograph and that was from Tim Rose who played Admiral Ackbar in Star Wars: The Return of the Jedi and The Force Awakens. He also worked with animatronics and did voice acting.  Some of his other works include The Dark Crystal and Walking with Dinosaurs.

Peter Capaldi, the current Doctor in Doctor Who was there on Sunday. The celebrity guest list was impressive and they got some awesome actors who play great characters; I mean they got Doctor Who, Darth Maul, Batman, Hellboy, and Dr. McCoy. Through all the exhibitors, artists, and celebrities the best part of Awesome Con was the cosplayers. They made Awesome Con awesome.  Some of the costumes were just incredible and the passion fans put into making themselves into these characters was fantastic. Even the kids got into the act. They had a special kids costume contest. All of the kids won, but there were some great little costumes, mainly Star Wars and Marvel superheroes.  It was great to do something for the kids because Awesome Con is for all people young and old.
Another great feature of Awesome Con was the photo shoot area in the BackLot.  Here during specific times in the day attendees and press can come and take photos of cosplayers without having to move around the exhibit floor finding them. The cosplayers that did come to the shoot really enjoyed it and some got truly into character, especially those at the Avengers photo shoot. There I learned about a new Marvel superhero that was created just last year called Unbeatable Squirrel Girl. I will have to check out this comic, as I can't explain anything about it right now only she is a girl with squirrel DNA. The last photo shoot I went to was the any cosplay photo shoot. Some of the Avenger characters were still available along with some DC comic and Star Wars characters, including Count Dooku.
The convention center was not as crowded that day, and I was a little surprised that the Timothy Zahn Q&A was only half full.  A staff member also commented on how the crowds were not as expected but a lot had to do with the transportation situation in DC. Most attendees came after 1pm. A bit disappointing as their may have been more cosplayers earlier in the day. Still everyone there had a great time. There was a lot of energy in the exhibit hall and cannot wait till next year.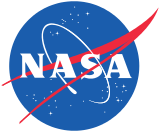 Awesome Con did not just feature commercial exhibitors, artists, or celebrities; there was also booths set up by NASA. I looking forward  to discussions with NASA scientists to learn more about their current missions and research. The first place I headed to after arriving was the NASA booth. Before discussing anything, two scientists from the Goddard Space flight center had me do a small experiment. The experiment was to blow up three balloons one for Earth, Mars, and the Moon. They were to show relative circumference of all three and how the planetary bodies differed in size. I actually was amazed at how small the Moon was, Mars was  a little smaller than I had thought as well. I also had to show using the ballons where I thought Mars and the Moon were located from the Earth. The Moon was actually farther than I picked.  Jupiter and Pluto were next to determining distance. I was correct on Jupiter but not Pluto. Then they proceeded to use the geographic area. Pluto would be in Annapolis from Washington DC.  This was quite fun and educational.
Next the NASA scientists told me about how the one year missions on the International Space Station are for testing Human endurance in space and in preparation for manned missions to Mars. If humans were to endure a six-month flight to Mars they also had to be able to disembark onto the red planet with minimal resources.  Mars does not have a contingency of medical personnel waiting for them. Getting humans to Mars safely is a top priority but also, how do you feed the astronauts? This is also one of the things NASA is working on.  Growing food in space, and on the Martian surface. They can always-3D print their food. It is a reality now, 3D printed food.
My impressions on a day at Awesome Con and be summed up into one word, Awesome. It was bigger than I had imagined for a convention that only began in 2013. A true celebration of all things, comics, sci-fi, fantasy, games, and popular culture that I would go back to year after year.   It was just so amazing.  For anyone in the DC area June 16 – 18th Awesome Con 2017 is a must attend event. I would recommend coming, just plan ahead to avoid any transportation issues and go all three days.  Everyday has something new and a special guest may only show for one day. On Sunday June 5th Bill Nye the science guy was hosting the Awesome Con science fair.  There is so much to see at these celebrations, and something for everyone to enjoy.