Editor's Note: Stay tuned for more reports from DragonCon this year, including Marie's amazingly popular photo section from one of the most visual shows in existence.
DragonCon 2015 was my sixth DragonCon, and it finally happened. I finally attended a DragonCon at which the big guest panels did not particularly interest me personally, which is not to say that the panels and guests were not stellar. With guests like Karen Gillan, Stephen Amell, and the always-amazing John Barrowman, the guest panels still remain the primary gem in the DragonCon crown.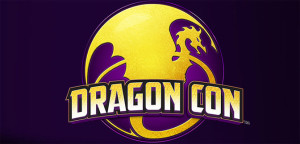 Having already seen John Barrowman and just plain refusing to stand in the Karen Gillan line (which was incredible in length even at two hours out from her panel), I decided to experience the convention a little differently this year. It has been my experience that while convention attendees come in all kinds of shapes and sizes, they generally fall into two camps. The first general camp is the planner, meaning that he or she grabs the schedule months in advance, monitors guest releases and panel updates, and spends the con rushing from panel to activity to panel, having a blast all the while.
The other general type, may have a few very specific panels he or she wishes to see, but generally prioritizes people-watching, art show admiring, and dealers' room wandering over the hyper-scheduled approach adopted by the former type. Let's call the two archetypes Hermione and Ron respectively for ease of reference. In the past, I have generally been a Hermione. This year, I decided to see how the Ron half lived, and frankly, it was just as much fun as any of my previous Hermione years.
Before I describe my Ron-odyssey, let me state that I did attend one of the big guest panels, specifically Terry Farrell's panel as I have been engaged in a re-watch of Deep Space Nine. She and Garrett Wang, who serves as DragonCon's TrekTrak director, were sidesplittingly funny, if not always family-friendly, but Farrell's discussion as to her reaction to Jadzia's death ranged to poignant. She also announced that she has joined the cast of Star Trek: Renegades, for those of you who might be interested in such things. Of course, the question about whether a new television show might be the offing came up, and unfortunately, neither panelist was aware of any such plans.
Now, with that out of the way, I can tell you, gentle readers, that the first rule of my Ron-Odyssey was to be open to new experiences. Because I deliberately allowed myself (and my long-suffering husband) the freedom to choose panels and activities on a whim, we found ourselves interacting with more of our fellow attendees.
At one point, we found ourselves downstairs in the Marriott near the old dealers' room, huddled over the DragonCon app when a group of new friends invited us to play Joust with a series of Playstation Move controllers. If you haven't played the game, it's an indie title based on the classic arcade game that uses the accelerometer in the Move controller to gauge how fast the player is moving. If the player moves faster than the music controlled by the game, the color on the Move controller goes out, and the player loses. Other players, up to seven in total, try to cause you to move too fast or whap your hand in order to jostle the Move. The last player standing wins, and as it turns out, I am truly not good at this game. However, it was a ridiculously entertaining way to spend an hour, especially as my husband spent the entire time targeting me. He was unfairly good at the game.
The other rule of our Ron-odyssey was that we were required to attend panels of which we had never heard, on the off chance that we discovered new items to add to DragonCon Wrestling as our staple activities, and we certainly did that. My husband selected something called "HSC" or "Historic Steel Combat", so off we went to the Hyatt International Towers to experience what turned out to be a group of men and women who specialized in medieval mixed martial arts. For those readers located in the Columbia, SC area, I recommend that you check out the Palmetto Knights.
Watching the knights engage in actual edged combat was both exhilarating and fascinating, as the combatants not only explained the rules of the minute-long matches but also that this type of competition exists in European MMA leagues. Believe me, waiting in line for this particular panel was well worth it.
Lastly, relinquishing the rigid scheduling allowed for more time to peruse the dealers' room and art show. In years past, I never made it to the art show, so I would have missed the Muppets display. They had original Muppets in a case to promote the opening of the Center of Puppetry Arts, so even for those of us who missed the panel, there was a piece of Muppet history for us to view. This year's dealer's room featured familiar booths (Chessex) and new faces such as the hilarious Tentacle Kitty. Because this year's vendors were located in the America's Mart II building, there was ample space to navigate between booths. We had the opportunity to run into old and new friends as we shopped for lightsabers and Cthulhu dice.
Being open to new convention experiences radically changed how I experienced DragonCon, and frankly, I consider this year to have been one of my favorite experiences, and not just because I scored Nichelle Nichols' autograph. The fact that I was able to have such a radically new experience after six years of attending the convention speaks volumes about the convention's community, its diversity of offering, and its worth as a convention.
I certainly learned the appeal of letting go of the admittedly fantastic convention app and just letting myself enjoy the atmosphere, and I hope to incorporate some of that into future conventions.