Among all the flash, noise and crowds of E3, it is actually surprisingly easy to overlook even fairly large booths. But there's a generously sized chunk of coveted show floor set aside with a lot of comfy chairs in a nice open space, exactly where a foot-weary gamer might want to crash and catch their breath. This isn't just a rest stop, however – it's the area set aside by the ESA for the five finalists of the E3 College Game Competition.
This year was only the second annual running of this competition, but it's taken no time at all for colleges to get into the game (pun intended). Almost 400 universities, colleges and trade schools submitted a game, with supporting details and assets. Entries were judged by a panel of industry professionals, and the five finalists had the honor of displaying their games on the E3 floor.
I made sure to stop at the demos for each of the five finalists and let their nervous but excited young developers give me the rundown on their games. Anyone who did the same would soon realize that this was more than just a comfy oasis to stop and rest; this was the future of the industry, and the future of the industry shows promise.
None of these games are going to blow your mind with their high budget, but there's a good chance you're going to be surprised by how much of a punch they can pack for a college project – and most important of all, there's a good chance you'll enjoy them. What higher praise can a game developer ask for?
If you get the chance, stop and take a look at the college games that won the chance to go to E3. In almost all cases, you can download either the full game or a demo for free.
In no particular order:
"Paper Dream"
This was the submission from Lawrence Technological University, and development team Infinite Machine.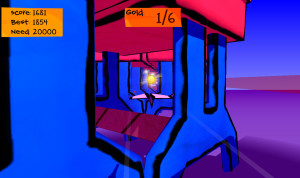 Did you ever catch yourself daydreaming in class? Did you ever fold a paper airplane, and throw it at the back of the head of the gal or guy you secretly fancied? Do you want to admit how old you were the last time that urge struck you? No matter your answer to these questions, you might still enjoy Paper Dream, in which you control a paper airplane as it navigates the obstacle courses of several levels, weaving between desk legs and chairs to collect glowing point globes, and showing off your aerial prowess by scoring bonus points for flying as close to obstacles as you can.
Paper Dream boasts vibrant colors and a lovely, stylized aesthetic – half cartoon drawing, half water painting. It also has a nice variety of imaginative levels. In one later level, you navigate your way through plunging and intertwining serpentine dragons made entirely out of school textbooks.
The game can be downloaded here.
"Data Helix"
This was the entry from the University of Denver, Team Underhaus.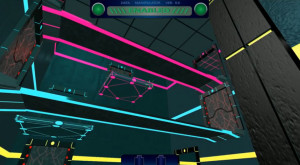 Data Helix is a puzzle game, with a simple but interesting premise. You take on the role of an A.I. being put through its problem-solving paces. In this case, your test takes the form of navigating from one side of a room to the other – except that the rooms are filled with progressively more complicated collections of lifts, bridges, keys, and dead ends, and the only way to get it all to line up correctly to allow you an exit is by utilizing the game's pivotal (pun intended) room rotation mechanic.
In earlier levels you'll start by simply rotating the room left or right, to get things aligned. Soon it's no longer a straight A to B, and may require a bit of back and forth to find keys and then get back to where you started. In later levels things take a dizzying turn when you need to begin rotating the room not just right or left on a level plane, but along multiple axes.
The graphics here are rudimentary, and reminded me in color scheme of something out of a 1980s arcade. But you don't play a game like this for the pretty picutres – and what does an A.I. care about aesthetics anyway? You play a game like this for the mental challenge. Fans of games like Portal who are looking for a way to kill some time might enjoy killing their time with Data Helix.
The game can be downloaded here.
"The Vinyl Game"
This was the submission from the University of Utah.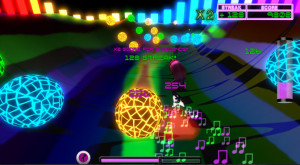 Their game business card read: "Dynamic forced-runner Indie music game." If that doesn't give you enough of a description, I'll do my best. The extent of my music game experience is entirely composed of a brief but obsessive stint of Guitar Hero, so my lexicon and frame of reference is probably limited. But even a music game ignoramus could pick up on a few things.
One of the key draws of The Vinyl Game is that you can import songs of your choice from your own library into the game. Once your track starts, your avatar hops on their board and surfs down a vectored canyon filled with a variety of colored globes. Each color represents a different effect that will be applied to your track – grooves, tempos, distortions – across a variety of musical genres. Pick one particular effect and do your best to navigate your way through the obstacle course of the song, picking up only those color globes, and you're treated to bonus points and a great high score, along with a swinging new rendition of your favorite tune. Or mix it up, if you're more interested in auditory exploration, and see what eclectic madness you can mix out of your songs.
The game's blog features some gameplay trailers if you want to take a peek, and it's also where you can download the game.
"Port of Call"
This was the submission from the University of Texas at Austin, by Underdog Games.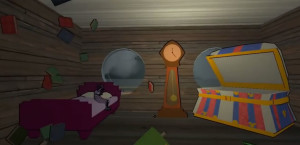 The game's site describes the game pretty aptly: "You wake up on a small dock with no recollection of who you are or how you got there. The first person you find is a grumpy, old man who enlists you to work on his ferry boat which seems to have materialized behind you. But not all is as it seems on this strange ship, and the people you meet may know more about your past than they let on. Port of Call is a narrative exploration game that focuses on telling the player a story. Interact with the ship's passengers and explore your surroundings in first person to try to uncover the secret of your past."
I played through a bit of the demo on the floor, and was most struck by the sound design. Even headphones aren't often enough to block out the din of an E3 show floor, but during my time on Port of Call I could clearly make out the eerie sound effects, the footsteps, the strangely distorted voices. The game manages to craft a decidedly haunted atmosphere, and right off the bat deliveres some pretty surreal scenes.
Unfortunately this one does not seem to be available for download just yet, but a few more votes on Steam Greenlight might just get it released soon! So take a look at their trailer, and if you're so inclined, cast your vote of support.
"Prisma"
This was the submission by the Savannah College of Art and Design, and also ended up being the first place winner of the competition.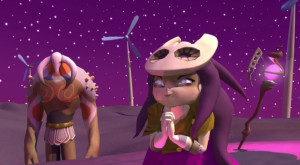 The game's flier described Prisma as "a side scrolling, multi-dimensional platformer where you play as Ray, who has the power to phase in and out of different dimensions."
With its more expansive animations and color palette, it's not difficult to see why the game might have taken first place. Although I did not get a chance to test drive the game for myself, by observation it definitely seemed like a decent platformer – challenging at parts, and with a variety of distinctly animated backdrops and accoutrements. The world of Prisma is as much of a character as Ray, which is usually a hallmark of most good platformers.
The gameplay trailer on the game's site gives you a good taste of what you'll be getting if you choose to download the game's demo. And with some support, this contest winner may reach players as more than just a demo soon.
Find the trailer and demo here.