Editor's Note: Check out all of our live E3 coverage right here in this special E3 2018 section!
So. E3 2018 is over, and much to my surprise I was very pleased with the way everything went. I tried to watch every conference as best as I can, but as usual real life gets in the way so I wasn't able to see every single moment. But still, there was a lot I was able to see and after taking some time to let everything settle in and get my thoughts down on paper. So like I did with my preview, I'm going to go through every conference that I previewed and give a final score on how it turned out and my impressions for 2018 and 2019. First off, let's start off with what might have been the worst conference of them all:
ELECTRONIC ARTS, aka EA PLAY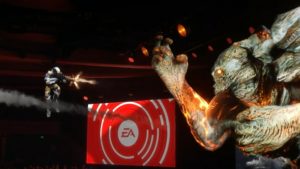 I'm going to be blunt on this one. Rarely do I suffer from insomnia. But if I did, EA Play would have been an instant cure. The whole even can be summed up as one word: BORING! Presenters messed up their lines constantly, and one I actually referred to as the "German Kristen Stewart" because she had the same "deer in the headlights" look that the "actress" always shown in her films. Sure we got to see more of Anthem which I'm looking forward to, Battlefield V announced they would not use lootboxes (we'll have to see about that. This is EA after all,) and there was a little surprise announcement that Unravel Two was available for purchase on that day. But what sealed the failing grade for me is once again EA ruined another once loved franchise and turned it into a mobile game in name only. Yes, they turned Command and Conquer into a Battle Islands rip-off. Typical EA at its worst!
Overall Grade: D-
MICROSOFT: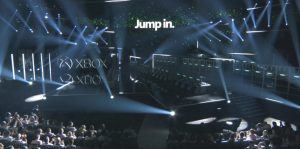 I said that MS needed to show games, and that's exactly what they did. Games, games, games. In fact, 50 games were announced, with 18 of them being console launch exclusives. We got more looks at Metro Exodus as well as the first look of Forza Horizon 4 which will run at 60 frames per second on Xbox One X. Gears 5 and Halo Infinite were unveiled to show the start of Microsoft's commitment for first party studios. But that was only the beginning, as they announced five new studios, the biggest surprise being the acquisition of Ninja Theory. I never even saw that one coming. And to close out the conference we were treated to the first showing of Cyberpunk 2077. All I have to say it it's about time. It's funny though, there were people who cried about how there were too many multiplatform games shown, but then again Sony does the same thing and they always get a free pass for it. Nonetheless, Microsoft nailed the games announcement, and that's what matters most.
Overall Grade: A
BETHESDA:
Let's face it. Bethesda's "BE3 2017" conference sucked! It was one of the worst I ever saw from them. This year, talk about a complete 180. Starting off with games we already knew about such as Rage 2, it was nothing but announcement after announcement that I wanted to play: DOOM Eternal was the highlight of those, but we also had Fallout Shelter coming to Nintendo Switch and PS4 (and before you fanboys say "sorry Xbox," know it's been on there for about a year) as well as Elder Scrolls Blades for mobile.
Then there was the heart of the presentation: thirty minutes of Fallout 76. Yes, I hear those bawwing over the fact that it's online, but it is also a single player experience. I am so ready for the game because everything I saw made me want more. I loved Fallout 4 and want to see how the West Virginia wasteland looks after "Reclamation Day." Of course there was a collector's edition that includes a full Brotherhood of Steel Power Armor helmet, but that is still out of my reach. I just want the game, and thankfully it has a 2018 launch. November 14th to be specific. I can't wait.
Oh and Bethesda finished with some small announcements regarding Starfield and Elder Scrolls VI. Nothing to see here. /sarcasm
Overall Rating: A+
SQUARE ENIX: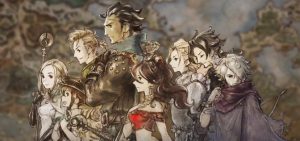 The only good things of this conference were stuff I already saw on the MS presser: Shadow of the Tomb Raider, Just Cause 4 and even Kingdom Hearts III. The rest were games that were only coming out on PS4 that I didn't care about as well as another title coming to Switch. The whole event was just underwhelming, and it was time to move on.
Overall Rating: D
UBISOFT: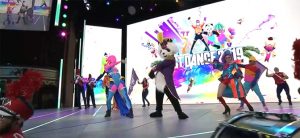 Last year's surprisingly good conference was a breath of fresh air, and this year was no exception. They started off weak but I can understand why, getting Just Dance 2019 out of the way early, then showing an amazing trailer of Beyond Good and Evil 2. We also saw more of The Division 2 (which was also shown during Microsoft's event) with an announcement of 8-player raids. A new Trials was announced as Trials Rising. In addition, digital toy base game Starlink: Battle of Atlas was shown off, with a special addition for Switch owners in the form of Starfox content (Fox McCloud, the Arwing and extra Starfox related missions.) Skull and Bones was shown more and its looking more promising than ever.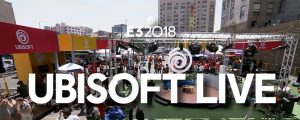 But it was the first showing of Assassin's Creed Odyssey that looked the most impressive. Origins started an RPG trend in the series that I wanted to see more of in the vein of Witcher 3, and it looks like Odyssey will be doing that as well, moving the setting to ancient Greece and featuring two playable characters. Safe to say, Ubisoft had another amazing showing, and I commend them for keeping it up.
Overall Rating: B
SONY: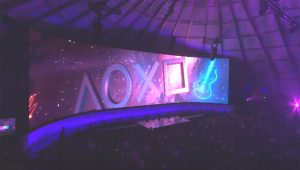 I'd like to know just what Sony was thinking with their conference. It started off with some banjo player that made me feel like I was going to be in a live action Deliverance, when it was to show gameplay footage of Last of Us Part II. Then they also had a flute player leading up to the first showing of Ghosts of Tsushima, which I admit looked pretty impressive. There was also footage of Days Gone II and more "I don't know what the heck this is going to be" footage of Death Stranding. Lastly, we saw some gameplay footage of Spider-man on PS4. There was also the announcement of the Resident Evil 2 remake, and of course everyone went crazy about it, not knowing it is a multiplatform game. Same for Remedy's latest game Control.
I was also going to mention the Fortnite debacle, but I will go over that when I discuss Nintendo.
Overall Rating: D+
NINTENDO: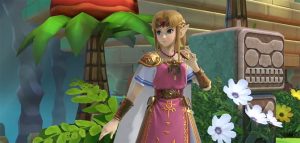 Again, Nintendo Direct was shown in lieu of an actual conference. We were shown new games such as Daemon X Machina which is slated for a 2019 release, and there I thought, "here we go again with the next year releases…when is the ghost of Iwata going to say "Please Understand?" Thankfully that wasn't the case. A lot of Nintendo's game announcements were 2018 releases, including Xenoblade Chronicles 2, Super Mario Party, Overcooked 2, and Killer Queen Black. Fire Emblem: Three Houses was announced, but guess again when it comes out? That's right, 2019!
But, the heart of the conference was all about Super Smash Bros. Ultimate, which appears to include every element of the previous Smash Bros games: 8 player battles, every fighter possible (including new fighters Inkling and Ridley from Metroid,) Echo fighters (which mimic original fighters but have special abilities, such as Daisy in place of Peach) and new assist trophies an final smashes. The game looks amazing, but what shocked me is the official release date: DECEMBER 7, 2018! Yes, it's not another 2019 title, it's coming out THIS year!
But still with all this, we didn't hear anything about Metroid Prime 4 or a new F-Zero, so I'm a little disappointed with that. I am looking forward to Smash Ultimate but I wanted to see more.
Overall Rating: B+
And with that, it's time to count down until these games actually come out. The end of the year looks stacked and I can't wait. But until then, I will return with my picks of the best and worst games of 2018 (so far.)
Currently Playing: Earthbound (SNES Classic Mini)