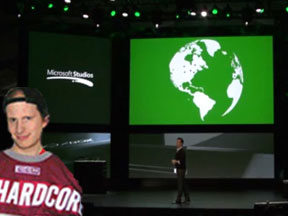 Well it's that time again. E3 is almost upon us. I'm sure you all remember how last year's went. And yes I admit I also jumped on the whole "Sony won E3" bandwagon, but admittedly Microsoft learned from their mistakes about the always online, and the 24 hour check in and removed them from the Xbox One. But you still have to wonder, if they said no to them at E3, would Sony have done what they did? What else explains the long delay from the start of their press conference?
But yes, Microsoft learned from their mistakes. They killed the always online component, they killed 24 hour check in, and they allow discs to be traded in or sold as usual. They are taking it a step further announcing a new SKU to debut at E3 with does not include the Kinect for only $400, offering more choice to consumers, and it seems to be working out well. Gamestop has reporting strong interest in the new SKU, and I'm curious to see how it will turn out.
But with all that out of the way, and no chance for Sony to use cheap tactics for a second consecutive year, Microsoft is coming out swinging with their "Game On" E3 Press Conference, promising nothing but games, and from what I'm reading from leaks, if this is all true, I'm excited.
Earlier this month a leaked conference schedule was posted, and though I am very careful about leaks, what I saw for the lineup looks impressive. I'll go through all of them and let you know what I think:
BEYOND GOOD & EVIL 2 (Gameplay) – I admit I never played the original game, but I know a lot of people who love the original, and would do anything to see a sequel. I might have to check this out.
DIRECTX 12 (Trailer) – There has been a lot of talk about how DX12 would end up being the "secret sauce" to make the Xbox One easily compete with the PS4. If that is true, as well as the assumptions that removing Kinect will provide a 10 percent performance boost, I can't wait to see the results.
FABLE LEGENDS (Gameplay) – Ok I'll be honest. I'm not a fan of the Fable series. I tried to get into them but I couldn't. I'll wait and see on this one.
FORZA HORIZON 2 (Gameplay) – Though I'm more a fan of the other Forza series, Horizon 2 sounds promising. Just the fact that it offers up to 80 hours of single player gameplay, that's got my curiosity piqued.
GEARS OF WAR: LAZARUS (Gameplay) – One of my favorite Xbox series, even if Judgment was a bit disappointing. I know Black Tusk is working on Lazarus, and I'm stoked to see how this turns out.
HALO 5 (Tech Demo) – Though my interest in Halo has waned recently (I didn't even finish Halo 4,) it's curious to see how it will look on the X1.
KINECT TV & TELEVISION SHOWS (Trailer) – Guess what people? I actually LIKE the new Kinect because it's done right unlike last time. And I'm excited to see what programming comes out this year, be it the Halo series, or the documentary of the Atari 2600 ET excavation. They both sound promising.
CALL OF DUTY: ADVANCED WARFARE (Gameplay) – It's a Microsoft E3 tradition, the first gameplay footage of a new Call of Duty game. And yes, I hear the Battlefield fanboys ready to shoot off their mouths again but I'm actually excited about this. After all, it can't be any worse than Ghosts, can it?
QUANTUM BREAK (Gameplay) – Bad memories of Alan Wake put way behind me, I'm looking forward to seeing how this game will end up. The narrative, which Sam Lake and Remedy Studios specializes in, looks intriguing. Now if only the gameplay matches up to it.
STAR WARS: BATTLEFRONT 3 (Gameplay) – You all know my stance on Battlefield style games, and yes that includes Star Wars Battlefront. But this would be huge for Xbox One gamers. And there are those who are wondering if this would end up being an Xbox One exclusive. If so, that would be big. I will get to that later.
TITANFALL (DLC/Gameplay) – Titanfall is a huge hit on the Xbox One. There's no denying that. But fans want more, so I'm sure Microsoft will talk about upcoming expansions to the franchise. Where can they go from here?
I'm sure there are going to be extra surprises from Microsoft, but more rumors are coming out. Industry insider @Thuway has stated that a huge third party exclusive is coming to the Xbox One. Could it be the previously mentioned Battlefront 3? Maybe Microsoft acquired Capcom once and for all? (Dead Rising 3 might have just been the beginning?) Or maybe it will be Beyond Good and Evil 2?
There are also reports that Rare is prepping a reboot of one of their classic franchises. Leads are that it might be Battletoads, and I hope it's true. We haven't had a good BT game in a long time, and after the way Killer Instinct was rebooted and done right, I will definitely be getting this one, and it will shut the "Rare only makes Kinect games" crowd up once and for all.
Lastly there is a rumor about Ryse 2 being announced. I actually liked the first game, though I still think of it more as a rental than a purchase, and the period change has me wondering. Gone is the Roman era and the game will now be set in the medieval period. It is also said the game "looks beyond belief," and after how good the first Ryse was, I can't wait to see this, even if it's slated for a late 2016 release.)
So yeah, there is a ton to look forward to from Microsoft this E3. For all of you who want to claim the Xbox One is dead, you might want to reconsider your thoughts. Phil Spencer has turned this system around at such short notice. The best thing about it might have been Don Mattrick leaving for Zynga because it just keeps getting better.
Game On, all right.
Currently Playing: Wolfenstein: The New Order (Xbox One)
Waiting For: EA Sports UFC