Howdy everyone. You may not notice this at first, but I'm not Chella, though I play one on TV. Not really. Only Greg Crowe here at GiN actually appears on TV. But I do fill in for Chella when she's on vacation. She spent the last week at the Glastonbury Festival over in England, which is a pretty big music and cultural event that looks like a lot of fun. Chella and her team of friends help to organize a small part of the show, so she's doubly tired I'm sure.
Meanwhile, here in the United States, we have a long weekend in front of us. If you are reading this column when it posts on Friday, then Happy July Fourth! It's kind of ironic that I would be replacing (temporarily) our British columnist on a day when we celebrate tossing off England's yoke and forming our own country. Sorry about that yoke comment, I know we're all good friends now.
But the fact remains that while fireworks are mandatory and barbeque and beer are recommended, that we also find ourselves with a pretty long weekend where we can play some games without having to worry about deadlines, or bosses or productivity quotas. So what's a celebratory gamer to do?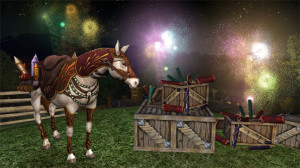 The truth is that I used to spend long weekends with Lord of the Rings Online, which incidentally has a lot of fireworks available. I still have a huge pack full of them. But I've kind of drifted away from that game, or MMOs in general. If every weekend was a long one, I might get back into it, but my life now doesn't have much room for an ongoing time sink like an MMO.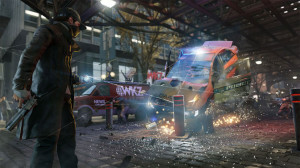 I did recently acquire a PlayStation 4, and I got a couple of good games that I do enjoy playing. Come to think of it, they all seem kind of open-world-like too, though none are actual MMOs. The first is Watch Dogs, which I really enjoy playing.  I used to like hacking into other people's games and also defending my own game when other people came calling, but now I find it a bit of an annoying distraction. And, if I disable that feature through the game settings, it says it will reset all of the points that I've earned, and I will lose some nice perks. So I do the next best thing and simply unplug my router when I play. I keep my hacking credit but nobody can get to me because I'm offline.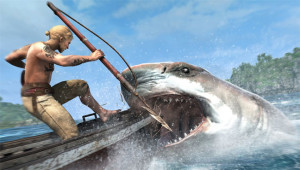 The other game that I picked up for the PS4 was Assassin's Creed IV Black Flag. I could never get it to work right on the PC, so I was really happy to pick it up for the console. The graphics are gorgeous of course and I like where the plot is going. However, I do find myself doing a lot of outside activities that have nothing to do with being an assassin. These are things like finding sea shanties for my crew to sing or going shark fishing off the coast of Cuba like something out of a Hemingway story. It's not like I'm obsessed with getting 100 percent completion either. I just start playing the game and decide that I want to wander around the Caribbean and find things to do, sort of like real life but for pirates.
So I suppose I will have enough to keep me busy this year and I'm really looking forward to a little bit of a needed break. What about you, dear gamer, as Chella sometimes calls you? What do you plan to play over the long weekend? Let us know and perhaps you can help steer other games into a fun activity while they ponder the possibility of a long and fun-filled weekend!
Happy Independence Day everyone!