As if I didn't already have reason enough to avoid Amazon like the plague, it's stooped to a new low. So, what's my beef with the great online titan, you may ask? For a start, Amazon doesn't pay UK taxes, well, not all the tax it should do, considering all the wads of cash it makes. Second, Amazon fails to pay its warehouse workers a fair wage. In fact, it actively seeks out areas with low employment, in order to be able to exploit people with zero hours contracts and no other options. Nice.
We live in a buy now, deliver it yesterday society. We like to buy stuff online and we don't want to wait for it. We also want to pay as little as possible for it. Nothing wrong with that, except that nothing in life is free. The upshot is, if we don't pay full whack or fair whack for something, someone somewhere is getting screwed and with Amazon it's their staff.
When I came across the headline 'Being homeless is better than working for Amazon', I changed my shopping habits. If you're okay with worker exploitation, then by all means 'click now to order'. Today's news may make you think again though, because Amazon is hitting gamers with its latest aggressive tactics.
Excuse my digression into ethical shopping, dear playchums, but a little scene setting was necessary. But what's all this got to do with games? Well, the latest Amazon endeavour is an experiment with a Prime-only paywall for some games.
Yes, that's right, you now need an Amazon Prime subscription to be able to buy select games, such as GTA V, FIFA 16 and Minecraft.  If you try to buy GTA V today via Amazon, you will be automatically directed to a thirdparty seller, unless you're a Prime member. The game is, now, only available from Amazon itself, exclusively for Prime members. Bizarrely, Prime members actually pay more for it, at £41.23, as opposed to £37 from another seller.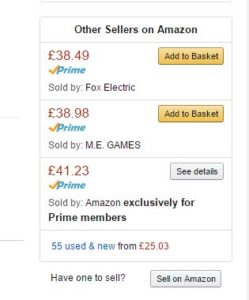 It's also worth noting that you don't have to buy from Amazon, so you can just go with a thirdparty and often get it for cheaper. Maybe the retailer is just shifting old stock and trying to promote Prime at the same time. However, I'm not sure it's a sound tactic – pay more and give us $99/£79 for your membership.
Currently, the games on the list aren't exactly bristling with must play titles, except for the three mentioned above. The worry is that Amazon's financial clout could see hotter titles and bundles slipping behind the Prime paywall, if it proves successful.
At the moment, Assassin's Creed Syndicate, Minecraft, FIFA 16, Dishonored: The Definitive Edition, Battlefield Hardline, Middle-Earth: Shadow of Mordor GOTY and Metal Gear Solid 5: Ground Zeroes are behind the paywall. You may shrug and think, so what. But what if it was No Man's Sky or Dark Souls III?
The answer, of course, is stump up £79/$99 a year for the privilege of ordering your games from Amazon. The sensible alternative is shop elsewhere. The Prime paywall for games is just the latest in a long list of reasons not to shop at Amazon, if you ask me.