The gaming community was dealt a bitter blow this week, when Nintendo announced the death of its president and CEO, Satoru Iwata.  The industry and gamers alike turned to social media to share their tributes for Iwata, many creating touching artwork using characters from his games.
It's not often that people know the name of the CEO of a company whose products they enjoy, never mind garnering their love and respect. But Iwata was one of those rare beasts, an executive who was actually a games developer. Not only was he a creative mind, but he was a capable leader and he had a keen sense for business. And he was a gamer.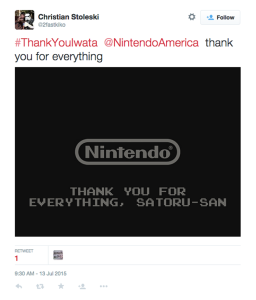 He began his career in games at HAL Laboratory, as a programmer. Then just a small company, HAL and Iwata went on to give us the likes of Kirby's Dream Land and that pink blob became a mascot. In true Iwata style, he wanted Kirby to be a game that anyone could play and this became his trademark.

When he took the helm at Nintendo, he was the first leader to have come from games development. Under Iwata's shrewd guidance, Nintendo quickly returned to profit. He also ushered in the Nintendo DS, which was one of the most successful consoles of all time. The touchscreen feature was central to his determination to make games simpler for everyone to play, at a time when the likes of Sony and Microsoft were making increasingly complex games.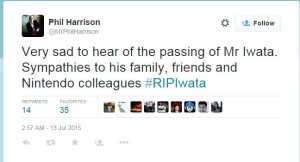 Iwata also oversaw the launch of the Nintendo Wii. Once again, its accessibility was the key to its success. Eschewing the classic controller in favour of a motion controller, there was no need to learn which button to press, widening its appeal to new audiences. It proved so popular that even the Queen Mother was rumoured to have had a go on the Royal Wii, at the odd family gathering.
Nintendo, under the leadership of Iwata cracked the conundrum of how to entice non-gamers into the world of gaming.  There were Wii consoles in old people's homes, for heaven's sake. But he wasn't always the man with the Midas touch, as the launch of the 3DS saw a change in fortunes. However, Iwata brought a new honesty and culpability to the games industry, when he took a 50% cut in his wage to apologise.

More recently, Iwata was responsible for another bold move for Nintendo, as it announced plans to develop games for smartphones. On the brink of the launch of a new console, the loss of Iwata, at such an early age, must be a mighty blow for Nintendo.  He saved Nintendo and brought many people a lot of happy moments and that's why he's being missed the world over.
"On my business card, I am a corporate president. In my mind, I am a game developer. But in my heart, I am a gamer."
Satoru Iwata
6 Dec 1959 – 11 July 2015