Following the spectacular success of its Esports Lounge at San Diego Comic-Con in 2019, Greenlit Content, a division of ReKTGlobal Inc, is pleased to announce a major new partnership with Wizard World to bring the Esports Lounge to pop culture conventions across the US in 2020 Esports is one of the fastest growing entertainment events in the world, with advertising revenue in the US alone expected to top $200m by the end of next year. Worldwide, esports now accounts for over $1bn in sponsorship, marketing, and ticket sales.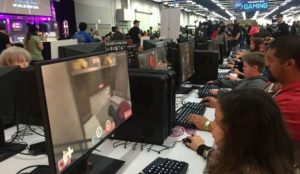 With live tournaments, gaming and interviews, and the chance to play the latest competitive and casual games in person, Greenlit Content's Esports Lounge allows fans and curious newcomers alike to experience this incredibly popular world of entertainment at a professional level in an accessible way.
Greenlit Content's Esports Lounge at San Diego Comic-Con 2019 saw over 4,500 visitors experiencing the lounge daily. Attractions included tournaments for high profile esports games such as Apex Legends, Tekken 7, Soul Calibur VI, Marvel vs. Capcom Infinite, and Mortal Kombat 11, while big name gaming hardware brands Microsoft, Alienware, and HyperX offered prizes and giveaways for visitors. Meanwhile, more than 750,000 people watched the SDCC Esports Lounge Livestream, featuring over 40 hours of programmed video content.
Thanks to the partnership between Greenlit Content and Wizard World, the Esports Lounge will now feature at Wizard World events in Portland, Cleveland, St. Louis, Chicago and more throughout 2020. Commercial opportunities for any or all of these events are available, including on-site promotions and advertising, custom tournaments and panels and bespoke video production.
Says Bryan Dawson, Head of Esports at Greenlit Content: "The Esports Lounge at Wizard World is a great opportunity to provide attendees with a true esports experience. With both competitive and casual gaming environments, including hourly tournaments with prizes, there's plenty of fun to be had for everyone."