For the last 21 days, we followed a number of talents from Sweden, Norway and Denmark on GAMERZ, the new show where contestants fight to win a pro gaming contract. Team Blue was coached by former professional player SpawN, and won the big prize in the exciting series finale.
The new show GAMERZ, which aims to create new professional CS:GO teams had come to its finale yesterday after three intense weeks where the participants lived and played in the GAMERZ house. During their stay, pressure has been tough and the contestants has developed fast through physical tests and training by former great players ins and SpawN as coaches.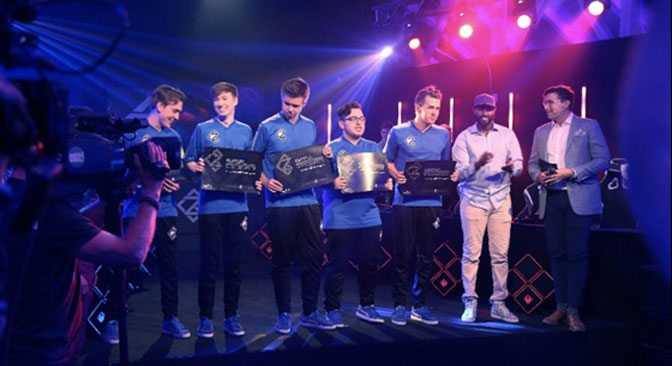 Team Blue with team members Dylan 'DH' Hamrini, Adam 'WolfY' Andersson, Linus 'Limpone' Wecksell, Sebastian 'ensa' Aas, Jonas 'Queenix' Dideriksen and their coach SpawN won GAMERZ's first Nordic version. The prize, a professional contract, enables the team to continue their journey with coaching and management for another six months.
"I've been looking forward to working on this project since I first met Monir Eriksson Technical manager and Robert Jönsson Producer in the GAMERZ House. A new show format, a new production challenge, and more exposure for the next generation of CS:GO stars were all things that I wanted to be a part of. This first season was awesome! Thanks to everyone who made it possible and tuned in, and I can't wait for the next season to begin", says Auguste 'Semmler' Massonnat – Host GAMERZ
GAMERZ has through its first version and on short time received acknowledgement among gamers. The format has been broadcasted on the esports audience conditions and platforms, the format has over 2 million views, 88 000 new followers on social medias and over 4000 tweets.
"It has been fun to see how GAMERZ has taken a position among our esport followers. We strongly believe that Facebook and Instagram are the right platforms for new global program formats and GAMERZ has got a great start", says Calle Sjönell from Creative Shop on Facebook
"This is the first thing we do in esport, and it's just the beginning of the continued efforts we want to make for the target group. We are happy that the format has been so well received from both participants and community", says Rutger Hagstad, Head of Marketing at PUMA Nordic
"Our next step will be a European version of the format where we intend to give Europe's talent in CS: GO the possibility to go from talents to professionals. Apply on www.gamerzglobal. Currently we are in the middle of discussions with partners and distributors for this autumn's European version", says Fredrik Ivansson, CEO of Gamingzone Entertainment.