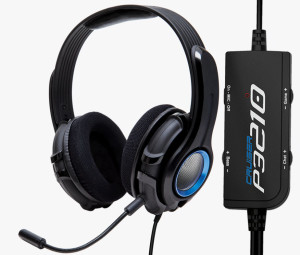 As a gamer and a journeyman musician I have learned to appreciate good quality headphones. With the role playing and real time strategy games I play on my PC, sound is a major factor. Needless to say how anxious I was to put the GamesterGear Cruiser P3210 through my gaming gauntlet of every non shooting game I could think of. I was not only satisfied, but I may have just found the brand I will continue to buy, assuming there are some models for consoles.
I started out by realizing the only sad truth with these headphones, that they were PC exclusive. In order to hook up these headphones you have to have both a USB and a headphone slot in order to use it. I was really open to use these on my Xbox 360 for FIFA or F.E.A.R. 3, but alas I just had to make do with Steam.
I started my test with the role playing game Blackguards, which itself was a high rated game and had a great score to follow it. I turned the volume and bass as high as I could and hoped the headphones could keep up.
They kept up and then some.
The noise canceling technology made the music seem like I was at a concert. On numerous occasions my friends had to throw miscellaneous items like books and water bottles at me to get my attention. The sword and fire sounds were realistic enough to send chills down my spine.
For the next test I dug up an old Steam game in Wasteland Angel to see if the headphones could make it better. While the P3210 can't fix gameplay glitches and flaws, it did an amazing job with the vehicle engines and gunfire. I can only imagine how this would sound on Battlefield or some other first person shooter title.
One key to the P3210's success is a new bass technology that lets listeners actually feel the environment rumbling. The rumble effect is achieved by GamesterGear by layering two drivers together that generates natural sound accompanied by a powerful dynamic bass. The effect is shocking during those dramatic moments that gamers love, like big explosions or booming boss battles.
For those who are mild gamers, there are other uses for these versatile headphones. These headphones make listening to your favorite music a brand new experience. In fact I am listening to Sum 41 through them while writing this review. With the attachable microphone it does great for party chatting and talking over Skype. At GiN, we do a lot of work on things like podcasts, and get to use a variety of headsets. Strangely enough, the headphones that sound great with games often don't do so well when trying to talk over Skype or other online chat programs. That is not the case with the GamesterGear P3210 headset. In fact, other people who were joining me on podcasts asked what gear I was using, because my voice was so crystal clear it sounded better than what everyone else was using. It even was better than some of the so-called professional gear that other folks were sporting.
Overall these are some of the best headphones I have had the privilege of testing. I highly recommend these to anyone who uses their PC for anything that involves sound. With controls to adjust chat volume as well as game and bass volume, GamesterGear gives you the tools to blow your ears out from the quality of this headset. I don't give perfects often, but the GamesterGear Cruiser P3210 earns all five GiN Gems.